Impacts in New York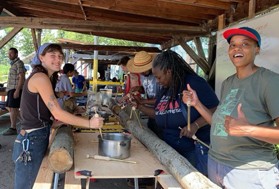 Harvest NY Specialists develop educational programs that increase agricultural investments, profitability and sustainability. They play a vital role to New York State agriculture by bringing together industry stakeholders to respond to emerging trends, connecting them to Cornell University research and training, and production support provided by the Cornell Cooperative Extension regional agriculture teams.
Program Highlights, January-March 2017
Robot Barn Comes Online

Harvest NY Specialists complete Evaluation Training

Harvest New York Training Programs

International Dairy Foods Association Food Safety Awards

Ice Cream Making at Genesee Valley Educational Partnership

Food Processing Internal Audit Training in Erie County

Livestock Processing & Marketing Update

Hard Cider: A Growing Beverage and Apple Industry
view complete impact (PDF; 3940 KB)
Program Highlights, October-December 2016
HNY Strategic Planning Good for the Environment

Training & Outreach in Dairy Food Processing and Marketing

Food Safety Plan Development

Charcuterie Class & Poultry Processing Workshops

Northern New York Produce Auction Updates
view complete impact (PDF; 3484 KB)
HNY Year End Review 2016
Farm Strategic Planning: 2016 in Review
Local Foods Program: Highlights for 2016
Dairy Processing: Training Impacts
2016 Western New York Cheese Workshops
Charcuterie Class, Poultry Class, Northeast Livestock Conference
Northern New York Produce Auction
Expansion Cold Climate Wine Industry- Northern New York
view complete impact (PDF; 4957 KB)
Program Highlights, July-September 2016
Harvest New York Efforts Coming to Fruition

Harvest New York partners on Cornell's Developing an Easter Broccoli Industry project

Harvest New York is awarded a $74K USDA Local Food Promotion Program planning grant to support the NYS craft beverage industry

Dairy Science in Northern New York

Preventive

Controls for Human Food Training Continues

Meat Cutting Seminar at SUNY Cobleskill

Northern New York Food Hub Initiative
view complete impact (PDF; 4632 KB)
Program Highlights, April-June 2016
Beef Seminar Cuts to the Chase

Workforce Development Trainings

Dairy Day Returns to the State Capital

Double Up Food Bucks Program Expanding Across Western New York

NYFVI Supports an Expansion of Harvest NY's Programmatic Work in the NYS Malting Barley Industry

What's the Next Step for the Southern Tier Ag Industry Enhancement Program?
view complete impact (PDF; 1933 KB)
Program Highlights, January-March 2016
STAIEP Funding Accelerating Farm Growth and Improvement

Wholesale Market Training

Harvest NY Spreads Brewery Supply Chain Information

Shaping the Dairy Foods Manufacturing Workforce

Educating Students and the Community on production of New York Dairy Products

Meat Processing and Marketing Update

Northern New York Cuisine Trails
view complete impact (PDF; 2577 KB)
HNY Year End Review 2015
Harvest NY Grows!

Dairy Strategic Planning- Year in Review

Buffalo Farm to School: What We've Learned and Next Steps

Double Up Food Bucks: 2015 Program Recap and Next Steps

HNY Promotes NYS as Processing Market

Malting Barley Supply Chain Analysis

Assessing the Costs and Returns of Implementing Food Safety Practices
view complete impact (PDF; 2819 KB)
Program Highlights, July-September 2015
2015 Legislative Agricultural Tour Recap
Agricultural Process in the Genesee Valley and western Southern Tier
Farm-to-hospital planning comes to Buffalo
Western NY Food Hub Mobilization and Expansion Project Launches.
view complete impact (PDF; 1312 KB)
Program Highlights, April-June 2015
NYATEP/ Cornell Host 2nd Annual Food & Beverage Workforce Development Summit: A Focus on Food Industry Apprenticeships
Innovating Fluid Milk
Food Safety Results to be Presented at Upcoming International Association for Food Protection Annual Meeting
Dairy Strategic Planning Specialist-It's Very Quiet on the Western Front
Double Up Food Bucks Western NY (DUFB WNY) expands to 8 new markets during the 2015 farmers market season!
Making great progress in the Buffalo Farm to School effort
view complete impact (PDF; 2101 KB)
Program Highlights, January-March 2015
Marketing NYS as a Place for Dairy Foods and Food Processing

Harvest NY Assisting with Online Training Programs for Dairy Food Manufacturers

Prosperity Through Produce Auctions

Farm Investments Strong

A Look into Malting Barley and its Economic Effects on Stakeholders in the NYS Supply Chain
view complete impact (PDF; 1139 KB)
HNY Year End Review 2014
New Dairy Farm Strategic Planning Specialist Hits the Ground Running
Western NY Food Hub Project Moves into Business Planning Mode
Harvest NY Partners with Institutional Markets to Increase Procurement of Local Foods
Harvest NY Collaborates Across Disciplines to Explore Greek Yogurt Whey Options
Harvest NY Trains over 700 in Food Safety & Dairy Foods Processing
Results from Double Up Food Bucks: Increasing Access to Fresh NYS Grown Produce
Harvest NY Teams up with NYATEP To Host First Food & Beverage Workforce Development Summit
Harvest NY helps demystify the FAQ "What is a Produce Auction and How Do They Work?"
Harvest NY Investigates the Impact of Good Agricultural Practices Certification on NYS Farms
Harvest NY Specialist joins Farm to Institute New York State Leadership Team
view complete impact (PDF; 1894 KB)
HNY 1st & 2nd Quarterly Report 2014
Double Up Food Bucks Western NY Launches!!
Ready to Grow Western NY Food Hub Planning Project Update
Expanding the Incubator Program at Cornell's Food Processing Development Lab
Harvest NY Hosts Food & Beverage Workforce Development Summit
Expanded GAP Training in WNY

view complete impact (PDF; 1279 KB)
Harvest New York Impacts for 2013
Summary of 2013 Impacts from Harvest New York.
view complete impact (PDF; 224 KB)
HNY Year End Review 2013
Workforce Development For The Growing Dairy Foods Processing Industry
Harvest NY Teams with Milk Quality Improvement Program to Obtain Grant to Research and Educate Farmers on Protocols That Will Benefit Western NY Dairy Processors
Harvest NY Maximizes Resources for Western NY Dairies
Opportunities for Growth in Western NY Farmers' Markets
Western NY Food Hub Feasibility Study to Commence
Good Agricultural Practices (GAPs) Trainings Provided by Harvest NY Specialist
Harvest NY Specialist Helps Family Farm to See Big Returns from Facility Investment

view complete impact (PDF; 1354 KB)
HNY 3rd Quarterly Report 2013
Western New York Food Hub Feasibility Study to Commence!
Expanded GAP training in WNY
Research & Education on Spore-forming Bacteria Grant Proposal

Audit Assistance Provided to Western New York Processors
view complete impact (PDF; 1119 KB)
HNY 2nd Quarterly Report 2013
2-Year Food Processing Degree Curriculum Approved and Grant Received to Start-Up Program
Harvest NY Hosts Cultured Dairy Products Workshops
Harvest NY Assists Western NY Agricultural Businesses Obtain Grant Money
Harvest NY Co-Facilitates a Food System Roundtable Discussion
Growth in the Works for Friendly Acres Dairy Farm
Knight Dairy Farm Looks to the Future

view complete impact (PDF; 1109 KB)
HNY 1st Quarterly Report 2013
Workforce Development Initiatives in Food Processing for Western NY
New Resource Available: Guide on How to Purchase at the NYS Produce Auctions
Southern Tier Dairy Farmers Look to Peers When Seeking to Improve Milk Production with New '10 Pound Club'

Survey of Western NY Dairy Farmers Shows Appetite for Growth and Increasing Milk Production Amid Land and Labor Concerns
Opportunities for Growth in Western New York Farmers Markets
Harvest New York supports the development of a regional food hub in Western New York
view complete impact (PDF; 1297 KB)
HNY 3rd & 4th Quarterly Report 2012
Training of Employees Entering the Food Processing Sector
Development of an Acid Whey Work Group
New York State produce auctions demonstrate stronger economic growth when they receive effective extension education support services
Emerging New York food hubs represent new opportunities for New York State farmers to meet the local food demand
Opportunities for Growth and Improvement in Productivity at Farm Level in Western New York Dairy Industry
Identifying New York Dairy Farm Growth Opportunities Stemming from Proposed Medium CAFO Permit Threshold Increase
Upcoming Events
Artisan Cheeses of Western New York
May 17, 2017
6:30 PM - 9:00 PM
East Aurora, NY
Cornell Cooperative Extension of Erie County and Harvest New York present
Artisan Cheeses of Western New York
. Western New York is producing some of the most interesting and most thoughtfully created artisan cheeses in the state. Cornell Cooperative Extension Dairy Processing Specialist (and Harvest NY team member) Carl Moody will give an overview of the cheese-making process and share what artisan cheesemakers are doing in the region as well as samples of some of their best work.
Cured Meats Workshop
May 31 - June 1, 2017

Ithaca, NY
The Cured Meats Workshop is tailored to small-scale meat processors and restaurant owners interested in creating a value-added meat product for their customers.
Announcements
Alternative Markets for Malting Barley
What will you do if the malting barley you've grown does not meet the specs of your maltster? Plan ahead for an alternative market for rejected barley. This can help minimize economic losses if the crop is rejected based on grain quality
Harvest NY, together with CCE Erie County, has put together an informative flyer about Malting Barley Alternative Markets. The publication covers market opportunities for rejected barley and potential buyers.
Read more...
Upcoming Beef, Lamb, and Pork Processing Workshops
Harvest New York, in collaboration with SUNY Cobleskill, is offering workshops for animal producers on Beef, Lamb and Pork processing to maximize profit!
Read more...
Western NY Food Hub looking for produce farmers!
Eden Valley Growers (EVG) is opening their doors to new produce growers interested in selling through wholesale market channels! Dubbed the Western NY Food Hub, this business diversification will provide qualified growers with immediate access to wholesale markets. Based in Erie County, EVG is a vegetable growing farm cooperative that recently celebrated its 50th anniversary. Recognizing the increasing demand for locally grown food and the considerable assets the cooperative has, both in terms of infrastructure, sales and marketing, they are eager to provide Western NY farmers with a viable market for their produce. Click
HERE
to see more information.