Event Details
Date
May 31 - June 1, 2017
Location
Cornell University, Stocking Hall
411 Tower Rd
Ithaca, NY 14853
Cost
$600.00 NYS Early Fee (prior to 5/17/17)
(additional attendee $600.00 ea.)

$725.00 Out-of-State Early Fee (prior to 5/17/17)
(additional attendee $725.00 ea.)

After 5/17/17 Costs: $725 for NYS; $900 Out-of-State


Host
Harvest NY and Cornell Dairy Extension

607-255-3459
Pre-Registration Deadline: May 17, 2017

EVENT HAS PASSED
Cured Meats Workshop
May 31 - June 1, 2017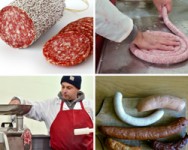 The Cured Meats Workshop is tailored to small-scale meat processors and restaurant owners interested in creating a value-added meat product for their customers.
The course consists of lecture sessions that will cover basic charcuterie, meat fabrication, casings, grinding, as well as an overview of HACCP, scheduled processes, and testing. Participants will also learn through on-hands sessions the basics of cured meats production in coppa, pancetta, speck and others.
Time and agenda to be announced soon.
For more information about this event,
contact MacKenzie Waro
.
Upcoming Events
FSMA Preventive Controls Qualified Individual Training
August 1 - August 3, 2017

During this 2.5 day Preventive Controls for Human Food - Qualified Individual course participants will learn principles of food safety; how to develop a written hazard analysis; when and how to develop the appropriate preventive controls; fundamentals of good manufacturing practices; monitoring, corrective action, verification and validation; and how to develop a recall plan. Successful completion of this course will result in the participant being given a certificate and qualify them as a Preventive Controls Qualified Individual.

Field to Pint Craft Brewery Tour - Western NY
August 4, 2017
10:00 AM - 4:00 PM
Batavia, NY
Follow the life-cycle of a pint of locally brewed beer! Visit fields of malting barley right before harvest, witness craft malt houses in action, see hop bines reaching for the sky, and savor the local flavors brewed by our friendly farm breweries. Come prepared to learn about each integral member of the New York craft brewery supply chain, as well as network with new friends.

We will meet at New York Craft Malt and visit the following stops: Cornell malting barley fields, New York Craft Malt, Dublin Corners hop yard and Farm Brewery. Lunch will also be provided.

Announcements
Industrial Hemp: From Seed to Market
New York is one of many states that has adopted an Industrial Hemp Research Pilot Program, as permitted by the 2014 Farm Bill. In an effort to provide an understanding of the industrial hemp market, as it stands today, Harvest NY compiled information from both primary and secondary sources of information. The contents within our whitepaper, which focus on the crop from seed to market, is heavily summarized, with links included to more in-depth reference data. The NYS Industrial Hemp Research Pilot Program is being administered by the NYS Department of Agriculture and Markets. Reference to their guidance document can be found
HERE
.
Western NY Food Hub looking for produce farmers!
Eden Valley Growers (EVG) is opening their doors to new produce growers interested in selling through wholesale market channels! Dubbed the Western NY Food Hub, this business diversification will provide qualified growers with immediate access to wholesale markets. Based in Erie County, EVG is a vegetable growing farm cooperative that recently celebrated its 50th anniversary. Recognizing the increasing demand for locally grown food and the considerable assets the cooperative has, both in terms of infrastructure, sales and marketing, they are eager to provide Western NY farmers with a viable market for their produce. Click
HERE
to see more information.