Event Details
Date
May 31 - June 1, 2017
Location
Cornell University, Stocking Hall
411 Tower Rd
Ithaca, NY 14853
Cost
$600.00 NYS Early Fee (prior to 5/17/17)
(additional attendee $600.00 ea.)

$725.00 Out-of-State Early Fee (prior to 5/17/17)
(additional attendee $725.00 ea.)

After 5/17/17 Costs: $725 for NYS; $900 Out-of-State


Host
Harvest NY and Cornell Dairy Extension

607-255-3459
Pre-Registration Deadline: May 17, 2017

EVENT HAS PASSED
Cured Meats Workshop
May 31 - June 1, 2017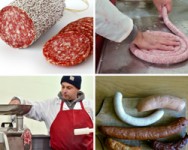 The Cured Meats Workshop is tailored to small-scale meat processors and restaurant owners interested in creating a value-added meat product for their customers.
The course consists of lecture sessions that will cover basic charcuterie, meat fabrication, casings, grinding, as well as an overview of HACCP, scheduled processes, and testing. Participants will also learn through on-hands sessions the basics of cured meats production in coppa, pancetta, speck and others.
Time and agenda to be announced soon.
For more information about this event,
contact MacKenzie Waro
.
Upcoming Events
Grrls Meat Camp -- Cut & Cook: PIG Workshop
October 18 - October 19, 2017
9:30 AM - 5:00 PM
Ithaca, NY
Let's come together in small groups build a strong circle of like-spirited grrls, while sharpening our butchery, cooking, and business skills. Come have fun and earn your badges!

FSPCA Preventive Controls for Animal Food
November 7 - November 9, 2017
8:00 AM each day
Ithaca, NY
The Current Good Manufacturing Practice, Hazard Analysis, and Risk-based Preventive Controls for Animal Food regulation (also referred to as FSMA Preventive Controls for Animal Food regulation) is intended to ensure safe manufacturing, processing, packing and holding of food products for animal consumption in the United States.

This course, developed by FSPCA, is the standardized curriculum recognized by FDA; successfully completing this course is one way to meet the requirements for a preventive controls qualified individual.

Announcements
Western NY Food Hub looking for produce farmers!
Eden Valley Growers (EVG) is opening their doors to new produce growers interested in selling through wholesale market channels! Dubbed the Western NY Food Hub, this business diversification will provide qualified growers with immediate access to wholesale markets. Based in Erie County, EVG is a vegetable growing farm cooperative that recently celebrated its 50th anniversary. Recognizing the increasing demand for locally grown food and the considerable assets the cooperative has, both in terms of infrastructure, sales and marketing, they are eager to provide Western NY farmers with a viable market for their produce. Click
HERE
to see more information.