Event Details
Date
March 2, 2018
Time
9:00 AM - 3:00 PM
Location
SUNY Cobleskill, Center for Ag and Natural Resources
114 Rockland Ave
Cobleskill, NY 12043
Cost
$55.00 per person


includes lunch and course materials


Host
Harvest New York
MacKenzie Waro
607-287-1292
email MacKenzie Waro
Pre-Registration Deadline: February 26, 2018

EVENT HAS PASSED
Pork Processing Workshop
March 2, 2018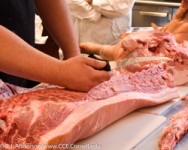 Maximize our meat profit! Learn how to cut a hog carcass, make sausage, and market your pork. Process the whole pig!
COST: $55 includes lunch and course materials.
For more information,
contact MacKenzie Waro
.
Upcoming Events
Fluid Milk Processing for Quality and Safety (Online Course)
July 1 - December 31, 2018

This online workshop (with rolling registration) is designed for those involved and interested in fluid milk processing and testing with the intent of providing the tools to support and improve on quality assurance/control and food safety programs for bottled milks. While the course design assumes participants have some prior knowledge of dairy microbiology & processing (e.g., Dairy Science & Sanitation Course), critical concepts will be reviewed and expanded on for those who do not. This course can be taken as a stand-along program, but it also fulfills the core training requirement of a Cornell Dairy Foods Certificate for Fluid Milk Processing for Quality and Safety after all required prerequisite courses have been taken (e.g., Dairy Science & Sanitation, HACCP, HTST).

Dairy Science and Sanitation Workshop (VT)
September 25 - September 26, 2018
8:00 AM - 5:00 PM
Colchester, VT
The Dairy Science and Sanitation Workshop is tailored to dairy processing personnel and is designed to help participants understand the basic principles of dairy science and safety, as well as emphasize dairy processing establishment needs related to dairy sanitation to ensure that proper programs are conducted in their establishments.

Writing Your Business & Marketing Plan
October 18, 2018
6:00 PM - 8:30 PM
Watertown, NY
This session is designed for those who are looking to take their business to the next level. It will include discussion and coverage of the components and considerations for a strong business plan in addition to an in depth look at the marketing plan. This course will also provide you with a template to complete the respective plans.

Announcements
Growing for Wholesale Guidelines Available
Grading and packing guidelines are now available for 17 commonly grown specialty crops in NYS: acorn squash, broccoli crowns, Brussels sprouts, corn, green peppers, cucumbers, green cabbage, red cabbage, savory cabbage, cauliflower, eggplant, green beans, jalapenos, poblanos, Hungarian hot peppers, summer squash, and zucchini.
Acceptable quality standards and common defects that should be sorted out on the grading line are depicted in these resources, both visually and in outline form. Find all of the
grading sheets here
.