Event Details
Date
August 15 - August 17, 2017
Time
8:00 AM each day
Location
Stocking Hall, Rm 148, Cornell University
411 Tower Rd
Ithaca, NY 14853
Cost
$750.00 includes lunch on Day 1 & Day 2 plus refreshments


Host
Harvest New YorkHarvest NY, CFD, and NEAFA
FSPCA Preventive Controls for Animal Food
August 15 - August 17, 2017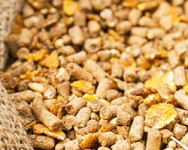 Cooperative Feed Dealers in partnership with Cornell University and Northeast Agribusiness and Feed Alliance will be hosting
FSPCA Preventive Controls for Animal Food Training
.
The Current Good Manufacturing Practice, Hazard Analysis, and Risk-based Preventive Controls for Animal Food regulation (also referred to as FSMA Preventive Controls for Animal Food regulation) is intended to ensure safe manufacturing, processing, packing and holding of food products for animal consumption in the United States.
This course, developed by FSPCA, is the standardized curriculum recognized by FDA; successfully completing this course is one way to meet the requirements for a preventive controls qualified individual.
The course will be instructed by Barbara Simeon of Cooperative Feed Dealers and MacKenzie Waro of CCE Harvest New York. Additional training opportunities will be conducted November 7-9.
A detailed description of the course and fees can be found here
.
Upcoming Events
Fluid Milk Processing for Quality and Safety (Online Course)
July 1 - December 31, 2018

This online workshop (with rolling registration) is designed for those involved and interested in fluid milk processing and testing with the intent of providing the tools to support and improve on quality assurance/control and food safety programs for bottled milks. While the course design assumes participants have some prior knowledge of dairy microbiology & processing (e.g., Dairy Science & Sanitation Course), critical concepts will be reviewed and expanded on for those who do not. This course can be taken as a stand-along program, but it also fulfills the core training requirement of a Cornell Dairy Foods Certificate for Fluid Milk Processing for Quality and Safety after all required prerequisite courses have been taken (e.g., Dairy Science & Sanitation, HACCP, HTST).
Dairy Science and Sanitation Workshop
August 7 - August 8, 2018
T 8:00 AM - 5:00 PM; W 8:00 AM - 12:00 Noon
Ithaca, NY
The course consists of online lecture sessions that will cover basic dairy science, including composition of milk, dairy microbiology, and dairy food safety, as well as an overview of dairy regulations. Participants will also learn in hands-on sessions the basics of cleaning and sanitizing principles, unit operations -- both raw milk production and receiving, and dairy processing, plant equipment and design, general control of pathogenic and spoilage microorganisms, in depth information on cleaning and sanitizing chemicals, their properties and applications, and a discussion on CIP and COP systems and common errors seen in the industry.
St. Lawrence Valley Produce Auction Growers Meeting

August 15, 2018
6:00 PM - 8:00 PM
North Bangor, NY
This course will demonstrate pest management in fresh market vegetables in both field and greenhouse (high tunnel) vegetables; primarily for those growing for wholesale auction. A hands-on demonstration of weed, insect and disease identification in vegetables including management options such as inter-row cover crops, grafting and where appropriate, spray options will be used to educate growers. Judson Reid, Senior Extension Associate with the Cornell Vegetable Program and Harvest New York along with CCE staff will instruct participants and facilitate peer-based learning. Details on each topic will focus on field observations at the farm.
Announcements
Growing for Wholesale Guidelines Available
Grading and packing guidelines are now available for 16 commonly grown specialty crops in NYS: broccoli crowns, Brussels sprouts, corn, green peppers, cucumbers, green cabbage, red cabbage, savory cabbage, cauliflower, eggplant, green beans, jalapenos, poblanos, Hungarian hot peppers, summer squash, and zucchini.
Acceptable quality standards and common defects that should be sorted out on the grading line are depicted in these resources, both visually and in outline form. Find all of the
grading sheets here
.