Event Details
Date
August 15 - August 17, 2017
Time
8:00 AM each day
Location
Stocking Hall, Rm 148, Cornell University
411 Tower Rd
Ithaca, NY 14853
Cost
$750.00 includes lunch on Day 1 & Day 2 plus refreshments


Host
Harvest New YorkHarvest NY, CFD, and NEAFA
FSPCA Preventive Controls for Animal Food
August 15 - August 17, 2017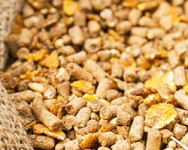 Cooperative Feed Dealers in partnership with Cornell University and Northeast Agribusiness and Feed Alliance will be hosting
FSPCA Preventive Controls for Animal Food Training
.
The Current Good Manufacturing Practice, Hazard Analysis, and Risk-based Preventive Controls for Animal Food regulation (also referred to as FSMA Preventive Controls for Animal Food regulation) is intended to ensure safe manufacturing, processing, packing and holding of food products for animal consumption in the United States.
This course, developed by FSPCA, is the standardized curriculum recognized by FDA; successfully completing this course is one way to meet the requirements for a preventive controls qualified individual.
The course will be instructed by Barbara Simeon of Cooperative Feed Dealers and MacKenzie Waro of CCE Harvest New York. Additional training opportunities will be conducted November 7-9.
A detailed description of the course and fees can be found here
.
Upcoming Events
Finger Lakes Craft Beverage Conference
March 27 - March 28, 2018
Tues: 8:00 AM registration, 8:45 AM - 6:00 PM includes networking time
Waterloo, NY
The 2018 Finger Lakes Craft Beverage Conference will be on Tuesday March 27th at the del Lago Casino & Resort in Waterloo, NY featuring multiple tracks with sessions covering legal issues, tax issues, marketing, distribution, beer and cider production issues. Hear from Government officials, craft beverage industry representatives, university researchers, extension educators, brewers, and cider makers about important topics related to your business and industry.

This event includes a trade show and opportunities for networking (including a Social Hour following the sessions) with others in your industry.

The day following the main 2018 Finger Lakes Craft Beverage Conference we have two separate field trips planned (this costs an extra $20). Participants will choose between the 'Brewery' field trip and the 'Cidery' field trip. The Brewery Field trip will include a trip to Fleur de Lis Beer Works. They will be brewing one of their beers while we are there -explaining the steps as they brew. The Cidery Field trip will be to Red Jacket Orchard and Nursery, as well as a local cidery to be decided.

Collaborative Marketing
April 17, 2018
12:00 PM - 2:00 PM
Watertown, NY
Are you considering entering a collaborative marketing arrangement? This workshop will provide information on how to identify personal and logistical farm-based criteria for collaborative marketing, how to identify potential collaborative marketing partners, and evaluating collaborative relationships. Additionally, attendees can learn what the NNY Food Hub is up to and how growers can participate.

Dairy Science and Sanitation Workshop
May 15 - May 16, 2018
8:00 AM - 5:00 PM
Colchester, VT
The Dairy Science and Sanitation Workshop is tailored to dairy processing personnel and is designed to help participants understand the basic principles of dairy science and safety, as well as emphasize dairy processing establishment needs related to dairy sanitation to ensure that proper programs are conducted in their establishments.

Announcements
GreenThumb 34th Annual GrowTogether Conference
NYC Parks GreenThumb GrowTogether Conference will feature a keynote address by Karen Washington -- a pioneer and advocate for community gardens and food justice, a member of La Familia Verde Community Garden Coalition, and the co-founder of the Black Urban Growers. The day will be packed with workshops and kids' activities. Children 12 years old and under are free!
$5 tickets and more information.
The first 500 people to purchase a ticket in advance will receive a free 40th anniversary gift.
Cornell Cooperative Extension Harvest NY Specialists, Samuel Anderson and Yolanda Gonzalez, will be talking urban agriculture with interested growers.
Saturday, March 31, 2018 | 8:30 AM - 4:00 PM
Borough of Manhattan Community College
199 Chambers St, New York, NY 10007
2018 NY Produce Auction Locations and Contact Info
Produce auctions in New York State have been formed so that produce growers have a way of marketing their product to quality minded buyers through open competitive bidding. A
map of produce auction locations
across the state is provided along with auction days, times, and contact information.
Unsure how to purchase at a produce auction? Our updated
How To guide
will give you some quick pointers on the auction terminology and how to make purchases at an auction.
Starting a Winery in NNY: Considerations and Costs
Are you interested in starting a winery in Northern New York? CCE Harvest New York has put together a report and interactive Excel spreadsheets on
Starting a Winery in Northern New York: Winery Establishment Considerations and Costs
.
The report provides a general overview of starting a winery in Northern New York. You will find information on current wine sales, markets, winery establishment costs, licensing resources, growing grapes vs purchasing grapes or juice, winery building, and potential financial help resources.
Additionally, we have created Excel spreadsheets to help you determine some start-up costs and considerations. Within the Cost Calculating Spreadsheet, you will find worksheets for Yield per Vine, Yield per Acre, and Production Establishment Cost. Instructions are provided on the top of each worksheet.
Growing for Wholesale Guidelines Available
Grading and packing guidelines are now available for 16 commonly grown specialty crops in NYS: broccoli crowns, Brussels sprouts, corn, green peppers, cucumbers, green cabbage, red cabbage, savory cabbage, cauliflower, eggplant, green beans, jalapenos, poblanos, Hungarian hot peppers, summer squash, and zucchini.
Acceptable quality standards and common defects that should be sorted out on the grading line are depicted in these resources, both visually and in outline form. Find all of the
grading sheets here
.