Event Details
Date
April 13 - April 14, 2017
Time
8:00 AM - 5:00 PM
Location
CCE Jefferson County
203 North Hamilton St
Watertown, NY 13601
Cost
$600.00 NYS Early Fee (prior to 3/17/17)
(additional attendee $600.00 ea.)

$725.00 Out-of-State Early Fee (prior to 3/17/17)
(additional attendee $725.00 ea.)

After 3/17/17 Costs: $725 for NYS; $900 out-of-state


Host
Harvest NY and Cornell Dairy Extension
Anika Zuber
585-813-3539
email Anika Zuber
HACCP/Food Safety Plans
April 13 - April 14, 2017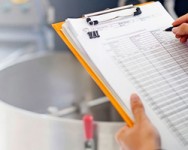 Harvest New York Specialists Carl Moody and Anika Zuber will be teaching this course where participants will take a hands-on approach to learning about HACCP and Food Safety Systems. Participants will break up into groups and you will receive guidance in developing specific plans for your facility. At the end of the workshop you will have a good start to developing Food Safety Systems. We will also assist in meeting FSMA and 3rd party audit requirements.
Time and agenda to be announced soon.
For more information about this event, contact
Anika Zuber
or
Carl Moody
. Registration questions should be addressed to
Louise Felker
.