Event Details
Date
February 26 - April 2, 2019
Time
Tuesday evenings, 6:00 - 9:00 PM
Location
The People's Forum
320 W 37th St
New York, NY 10018
Host
Farm School NYC, Cornell Small Farms Program, and CCE Urban Agriculture Program

Indoor Specialty Mushroom Cultivation Course
February 26 - April 2, 2019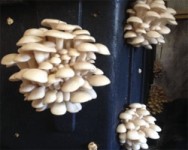 CCE's Urban Agriculture Program is collaborating with the Cornell Small Farms Program and Farm School NYC to offer "Indoor Specialty Mushroom Cultivation." The six-week course combines mushroom growing and marketing instruction with discussions about the ethnography of mushroom production. Harvest NY Urban Agriculture Specialist Yolanda Gonzalez will co-facilitate the course.
Students will gather from 6pm - 9pm on Tuesday evenings to participate in Cornell's 90-minute mushroom cultivation webinar together and then explore how indigenous and other cultural history and practice, race, class, and social justice relate to the themes raised in the webinar.
Cost: Sliding scale based on income plus $20 for mushroom cultivation kit.
Click here for more information and to register
.