Event Details
Date
February 26 - April 2, 2019
Time
Tuesday evenings, 6:00 - 9:00 PM
Location
The People's Forum
320 W 37th St
New York, NY 10018
Host
Farm School NYC, Cornell Small Farms Program, and CCE Urban Agriculture Program

Indoor Specialty Mushroom Cultivation Course
February 26 - April 2, 2019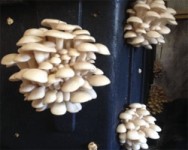 CCE's Urban Agriculture Program is collaborating with the Cornell Small Farms Program and Farm School NYC to offer "Indoor Specialty Mushroom Cultivation." The six-week course combines mushroom growing and marketing instruction with discussions about the ethnography of mushroom production. Harvest NY Urban Agriculture Specialist Yolanda Gonzalez will co-facilitate the course.
Students will gather from 6pm - 9pm on Tuesday evenings to participate in Cornell's 90-minute mushroom cultivation webinar together and then explore how indigenous and other cultural history and practice, race, class, and social justice relate to the themes raised in the webinar.
Cost: Sliding scale based on income plus $20 for mushroom cultivation kit.
Click here for more information and to register
.
Upcoming Events
Strategic Workforce Approaches Symposium
May 22, 2019
Wednesday, 9:00 AM - 4:30 PM
Ithaca, NY
Retention. Attraction. Workforce. People. The dairy industry has consistently shared that these factors need to be improved. Our Cornell Dairy team is hosting a Strategic Workforce Approaches Symposium on Wednesday, May 22nd where we will be hearing from industry partners on existing workforce development resources and current strategies that are working for businesses. Featured speakers will include the Manufacturers Association of Central New York; Bruce Krupke, Executive Vice President of Northeast Dairy Foods Association; Dr. Richard Stup, Agriculture Workforce Specialist of Cornell University; and an industry panel, "Navigating Employee Interaction Strategies."

Announcements
NYS Agricultural Soil Survey
In order to better understand the unique soils used in New York City's urban farms, Cornell Cooperative Extension's urban agriculture program launched the NYC Survey of Agricultural Soils in 2018. After obtaining soil and plant tissue analysis from ten urban farms in NYC, we are expanding the survey in 2019 with the goal of informing best management practices for unique productive urban soils. See our
preliminary findings and more information
, including a how-to tip sheet for NYC urban farmers on collecting soil samples and getting a soil test.