Event Details
Date
August 29, 2018
Time
5:30 PM - 7:30 PM
Location
La Finca del Sur
110 East 138th Street
Bronx, NY 10451
Host
Harvest New York
Yolanda Gonzalez
516-305-0358
email Yolanda Gonzalez
Growing Mushrooms on Gardens and Farms
August 29, 2018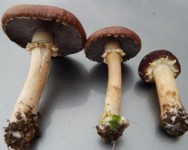 Please join us for an evening of fun-gi! Mushrooms are a wonderful crop to grow in the city, and can be incorporated into many existing growing systems to offer healthy, nutritious, and medicinal food to people and community. This workshop will offer gardeners and farmers of all sizes insight into a wide range of both outdoor and indoor growing methods for mushroom production. Anyone interested in learning more about basic mushroom cultivation techniques, starting a new enterprise, or considering commercial production at some scale are welcome to attend.
Steve Gabriel from Cornell Small Farm and CCE Harvest NY Urban Agriculture Specialists, Yolanda Gonzalez and Samuel Anderson, along with mushroom growers Jie Jin and Jan Mun will lead hands-on demonstrations throughout various "inoculation stations" and teach the basic principles necessary to start incorporating them into your existing gardening and farming practices.
Learn more about cultivation at:
http://cornellmushrooms.org/factsheets
Where: La Finca Del Sur
When: Wednesday, August 29th, 2018 5:30-7:30pm
Fee: This class is FREE to the public.
Special Note: There will be a breakout session toward the end of the workshop for those interested in taking the next step in receiving additional training in mushroom production and participating in a community mushroom project. We want to hear your thoughts!!