Event Details
Date
October 18, 2018
Time
6:00 PM - 8:30 PM
Location
CCE Jefferson County
203 North Hamilton St
Watertown, NY 13601
Cost
$15.00

Host
CCE Jefferson County
Cathy Moore
email Cathy Moore
Pre-Registration Deadline: October 17, 2018

EVENT HAS PASSED
Writing Your Business & Marketing Plan
October 18, 2018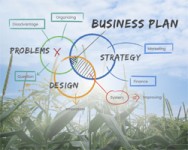 This session is designed for those who are looking to take their business to the next level. It will include discussion and coverage of the components and considerations for a strong business plan in addition to an in depth look at the marketing plan. This course will also provide you with a template to complete the respective plans.
6:00 PM -- registration and welcome
6:15 PM -- Kelsey O'Shea will cover the pri-mary sections of a business plan and special considerations. This will include coverage of annual financial budgeting and develop-ment of financial statements.
7:15 PM -- Lindsey Pashow will cover the marketing portion of the business plan in depth. This will include in depth coverage on market development and retention.
8:15 PM -- A question/answer time will allow farmers to ask their business specific
questions.
Contact Cathy Moore to register or register online.
Event flyer (PDF; 672KB)