Event Details
Date
October 19, 2018
Time
10:00 AM - Noon -OR- 5:00 PM - 7:00 PM
Location
CCE Lewis County
5274 Outer Stowe St
Lowville, NY 13367
Host
CCE Lewis County

315-376-5270
email
Pre-Registration Deadline: October 15, 2018
Agritourism Workshop
October 19, 2018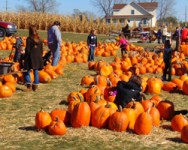 Have you been considering agritourism on your farm? Learn how to get started with agritourism, how to anticipate visitor expectations and important customer relations considerations, liability issues to clarify with your insurer, and how to market your enterprise for success! CCE Harvest NY Agriculture Business Development and Marketing Specialist Lindsey Pashow will be leading this educational event.
This workshop is being offered at two different times on Friday, October 19 at CCE Lewis County: 10AM-Noon and 5PM-7PM. Additionally, between 1PM-4PM, Lindsey will be available for office visits or farm visits.
Register by October 15 at 315-376-5270 or email
lewis@cornell.edu
.
Agritourism Workshop flyer (PDF; 855KB)