Event Details
Date
February 20, 2018
Time
10:00 AM - 2:00 PM
Location
CCE Clinton County
6064 State Route 22, Ste 5
Plattsburgh, NY 12901
Cost
$15.00 per person
(additional attendee $5.00 ea.)

Light lunch included.


Host
CCE Clinton County and Harvest NY
Sara Bull
518-561-7450
Pre-Registration Deadline: February 19, 2018

EVENT HAS PASSED
Small-Scale Value-Added Dairy
February 20, 2018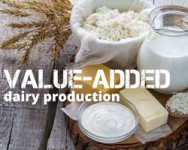 This presentation will introduce you to the ins and outs of small-scale cheese, yogurt and other value-added dairy production.
How to get started
Funding opportunities
Examples of value-added businesses
Featured Speakers:
Anika Zuber, Regional Dairy Processing Specialist, Harvest NY
Becca Durant, Dairy Product Specialist 2, NYS Agriculture & Markets
Kelsey O'Shea , Regional Ag Business Management
Fee: $15.00 per person. ($20.00 for two members of the same family.) Light lunch included. Register by calling Sara Bull at 518-5617450, or
register online
. Pre-registration is required!