Event Details
Date
February 20, 2018
Time
10:00 AM - 2:00 PM
Location
CCE Clinton County
6064 State Route 22, Ste 5
Plattsburgh, NY 12901
Cost
$15.00 per person
(additional attendee $5.00 ea.)

Light lunch included.


Host
CCE Clinton County and Harvest NY
Sara Bull
518-561-7450
Pre-Registration Deadline: February 19, 2018

EVENT HAS PASSED
Small-Scale Value-Added Dairy
February 20, 2018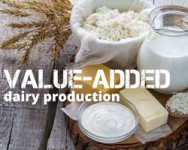 This presentation will introduce you to the ins and outs of small-scale cheese, yogurt and other value-added dairy production.
How to get started
Funding opportunities
Examples of value-added businesses
Featured Speakers:
Anika Zuber, Regional Dairy Processing Specialist, Harvest NY
Becca Durant, Dairy Product Specialist 2, NYS Agriculture & Markets
Kelsey O'Shea , Regional Ag Business Management
Fee: $15.00 per person. ($20.00 for two members of the same family.) Light lunch included. Register by calling Sara Bull at 518-5617450, or
register online
. Pre-registration is required!
Upcoming Events
No upcoming events at this time.
Announcements
NY Crop Insurance Availability by County & Crop
Apiculture, Dairy-RP, LGM, Nursery, PRF and WFRP policies are available throughout the entire state. Here is a table showing RMA
crop insurance availability by county and crop in New York State
.
If a crop is not covered in your county, you may still be eligible for a written agreement for that crop. Please
contact an insurance agent
to see if this is an option for you.
More information about crop insurance is available through Cornell's
New York Crop Insurance Education Program
.
Beginning Producer Benefits for Crop Insurance
A qualifying beginning producer can potentially receive benefits in the crop insurance program. These benefits are designed to help start your operation. In this article, Stephen Hadcock, Capital Area Agriculture and Horticulture Program, outlines the 4
crop insurance benefits available to beginning producers
.
1) An exemption from paying the administrative fee for catastrophic coverage and additional coverage.
2) Receive an additional 10 percentage points of premium subsidy for additional coverage policies with a subsidy premium.
3) Utilize the actual production history (APH) of a farming operation that producer was previously involved in.
4) Utilize 80% of an applicable T-yield, instead of the normal 60%, as a substitute Yield Adjustment.