Event Details
Date
February 12, 2018
Time
10:00 AM - 2:00 PM
Location
CCE Lewis County
5274 Outer Stowe St
Lowville, NY 13367
Cost
$15.00 per person
(additional attendee $5.00 ea.)

Light lunch included.


Host
CCE Lewis County and Harvest NY

315-376-5270
Pre-Registration Deadline: February 7, 2018

EVENT HAS PASSED
Small-Scale Commercial Value-Added Dairy or Meat Production
February 12, 2018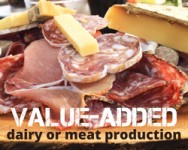 This presentation will introduce you to the ins and outs of small-scale dairy or meat production. Participants can choose to listen to dairy related topics OR meat related topics.
How to get started
Funding opportunities
Examples of value-added businesses
How to decide if this is right for you
How to get started and regulation overview
Features speakers from CCE Harvest NY, NYS Agriculture and Markets, and CCE Lewis.
Cost: $15.00 per person, includes light lunch. ($20.00 for two members of the same family.)
Register by calling 315-376-5270 or
register online
.