Event Details
Date
October 26, 2017
Time
10:00 AM - 2:00 PM
Location
Millie's Pantry
19 Main Street
Penn Yann, NY 14527
Cost
$30.00 first person from farm
(additional attendee $10.00 ea.)

Include light lunch.


Host
CCE Yates County
Caroline Boutard-Hunt
315-536-5123
Pre-Registration Deadline: October 25, 2017

EVENT HAS PASSED
Considering Small-Scale Commercial Value-Added Dairy Production
October 26, 2017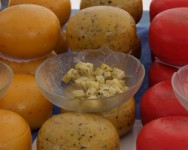 This training, hosted by CCE Yates County, will introduce the ins and outs of small-scale cheese, yogurt and other value-added dairy production.
Topics include:
How to get started
Funding - grant and loan opportunities
Examples of value-added businesses
Deciding whether it's right for you
Featured speakers include
Steven Brown, Finger Lakes Economic Development Center, C
arl Moody, Regional Dairy Processing Specialist, CCE Harvest New York, and
Rodney Hinz, Dairy Products Specialist, New York State Agriculture and Markets.

Cost: $30.00 for first person from farm; $10.00 each additional person from same farm. Light lunch included. To register, call Caroline Boutard-Hunt at 315-536-5123 or
register online
. Pre-registration is required!