Event Details
Date
November 6, 2017
Time
9:00 AM - 4:00 PM
Location
Cornell University, Stocking Hall
411 Tower Rd
Ithaca, NY 14853
Cost
$200.00 NYS Early Fee (prior to 10/23/17)


$250.00 Out-of-State Early Fee (prior to 10/23/17)


Fees increase by $50 after 10/23/17


Host
Harvest NY and Cornell Dairy Extension
MacKenzie Waro
607-287-1292
email MacKenzie Waro
Small-Scale Charcuterie Workshop
November 6, 2017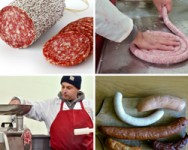 This one day Small Scale Charcuterie Workshop is geared towards home owners, or anyone who loves meat and wants to learn how to make sausages, Pate de Campagne, Spuma, and Rillettes. Participants will learn what breeds, and cuts of meats can and should be used in the charcuterie process, as well as how to create different blends with flavors and spices. The course consists of a one day hands on lectures and processing of charcuterie meats. Food safety will be discussed and carried out throughout the workshop.
The course is ideally suited for:
Small-scale Meat Processors
Restaurant Owners
The course is instructed by Justin Paterson, chef at Hazelnut Kitchen and Cornell Meat Foods Extension.
Cost:
$200 NYS early fee, prior to 10/23/17 / $250 after 10/23/17
$250 out-of-state early fee, prior to 10/23/17 / $300 after 10/23/17