Event Details
Date
August 4, 2017
Time
10:00 AM - 4:00 PM
Location
Meet at New York Craft Malt
8164 Bank Street Rd
Batavia, NY 14020
Cost
$20.00 includes lunch and transportation


Host
Harvest New York
Cheryl Thayer
607-592-9507
email Cheryl Thayer
Pre-Registration Deadline: August 4, 2017

EVENT HAS PASSED
Field to Pint Craft Brewery Tour - Western NY
August 4, 2017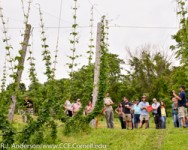 You asked for more New York craft brewery networking opportunities and Harvest NY listened! We're excited to host our second New York Field to Pint Craft Brewery Tour, which will follow the life-cycle of a pint of locally brewed beer. Visit fields of malting barley right before harvest, witness craft malt houses in action, see hop bines reaching for the sky, and savor the local flavors brewed by our friendly farm breweries. Come prepared to learn about each integral member of the New York craft brewery supply chain, as well as network with new friends.
We will meet at New York Craft Malt (8164 Bank Street Rd, Batavia, NY 14020) and visit the following stops: Cornell malting barley fields, New York Craft Malt, Dublin Corners hop yard and Farm Brewery. Lunch will also be provided.
Special guests include: Steve Miller, CCE Hop Specialist; Mike Stanyard, CCE Field Crop Specialist, Aaron MacLeod, Director, Hartwick College Center for Craft Food and Beverage, and Gary Bergstrom, CU Professor- Plant Pathology and Plant-Microbe Biology
As buyers of NYS grain, we invite and encourage Distillers to join us!
These tours are funded through the gracious support of the NY Farm Viability Institute.
Field to Pint Tour Flyer (PDF; 1036KB)