Event Details
Date
June 29, 2017
Time
12:00 PM - 5:30 PM
Location
Bus tour will begin at CCE Washington County
415 Lower Main St
Hudson Falls, NY 12839
Cost
$20.00 per person


Includes seat on bus and light refreshments.


Host
Harvest New York
Lindsey Pashow
518-569-3073
email Lindsey Pashow
Pre-Registration Deadline: June 26, 2017

EVENT HAS PASSED
Field to Pint Craft Brewery Tour (Eastern NY)
June 29, 2017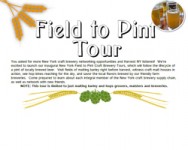 You asked for more New York craft brewery networking opportunities and Harvest NY listened! We're excited to launch our inaugural New York Field to Pint Craft Brewery Tours, which will follow the life-cycle of a pint of locally brewed beer. Visit fields of malting barley right before harvest, witness craft malt houses in action, see hop bines reaching for the sky, and savor the local flavors brewed by our friendly farm breweries. Come prepared to learn about each integral member of the New York craft brewery supply chain, as well as network with new friends.
We will meet at Cornell Cooperative Extension - Washington County and travel by bus to Argyle Craft Malt and Hops, Dry Town Hops, and R.S. Taylor and Sons Brewery. We will return to CCE Washington by 5:30PM.
Cost: $20 per person. We have a limited number of seats available so register now!
This tour is funded through the gracious support of the New York Farm Viability Institute.
Upcoming Events
Grrls Meat Camp -- Cut & Cook: PIG Workshop
October 18 - October 19, 2017
9:30 AM - 5:00 PM
Ithaca, NY
Let's come together in small groups build a strong circle of like-spirited grrls, while sharpening our butchery, cooking, and business skills. Come have fun and earn your badges!

FSPCA Preventive Controls for Animal Food
November 7 - November 9, 2017
8:00 AM each day
Ithaca, NY
The Current Good Manufacturing Practice, Hazard Analysis, and Risk-based Preventive Controls for Animal Food regulation (also referred to as FSMA Preventive Controls for Animal Food regulation) is intended to ensure safe manufacturing, processing, packing and holding of food products for animal consumption in the United States.

This course, developed by FSPCA, is the standardized curriculum recognized by FDA; successfully completing this course is one way to meet the requirements for a preventive controls qualified individual.

Announcements
Western NY Food Hub looking for produce farmers!
Eden Valley Growers (EVG) is opening their doors to new produce growers interested in selling through wholesale market channels! Dubbed the Western NY Food Hub, this business diversification will provide qualified growers with immediate access to wholesale markets. Based in Erie County, EVG is a vegetable growing farm cooperative that recently celebrated its 50th anniversary. Recognizing the increasing demand for locally grown food and the considerable assets the cooperative has, both in terms of infrastructure, sales and marketing, they are eager to provide Western NY farmers with a viable market for their produce. Click
HERE
to see more information.