Event Details
Date
March 17, 2017
Time
9:00 AM - 3:00 PM
Location
SUNY Cobleskill Center for Agriculture & Natural Resource
Meat Processing Lab
Cobleskill, NY 12043
Cost
$75.00

Host
Harvest NY and SUNY Cobleskill
MacKenzie Waro
607-287-1292
email MacKenzie Waro
Beef Processing and Cooking 2.0 Workshop
March 17, 2017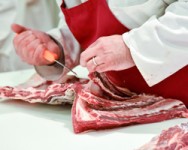 Harvest New York, in collaboration with SUNY Cobleskill, is offering workshops for animal producers on Beef, Lamb and Pork processing to maximize profit! Start with your basic 1.0 class and continue on to 2.0. Classroom materials and lunch are provided.
Beef to kitchen...what to do with those odd cuts and variety meats.
Register through SUNY Cobleskill for this event online using the link above. Or, call Cobleskill's Office of Professional and Continuing Education at 518-255-5528. Space is limited so register today!
HNY & Cobleskill Meat Processing Workshops Flyer (PDF; 206KB)