Farm Strategic Planning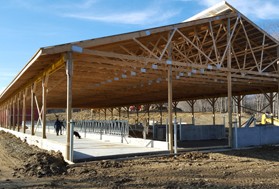 The dairy foods industry in New York continues to experience tremendous expansion and growth in the areas of production of yogurt and related products, artisan cheese production, as well as production of dairy powders, which have considerable opportunities for export. The growth in dairy foods processing capacity represents an opportunity for expanded farm-level production. This growth will take place both in the form of increased cow numbers and increased production per cow where appropriate, with emphasis on economically and environmentally sustainable growth strategies to ensure long-term continued supply of milk to meet the processing demands.
The Farm Strategic Planning Specialist on the Harvest NY team provides producers assistance with farmstead development, facility layout, and environmental planning to optimize production on dairy, crop and livestock farms.
Robotic Milking Systems - What We've Learned So Far (Part 2)
Timothy Terry, Farm Strategic Planning Specialist
Harvest New York
Last Modified: July 6, 2018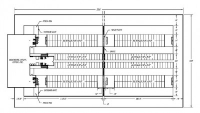 Below are more tidbits on robotic milking.
Robotic Milking Systems - What We've Learned So Far (Part 1)
Timothy Terry, Farm Strategic Planning Specialist
Harvest New York
Last Modified: June 4, 2018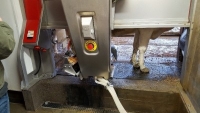 I was recently invited to participate in a robotic farming discussion group. The evening began with a few presentations by a robot manufacturer which, surprisingly, were less about sales and more about start-up and management of the systems and the cows. These proved to be good fodder for a fruitful discussion among the technical service people, dairymen and women, and other industry people in attendance, like yours truly.

20 Attributes to Highly Successful Managers: Insights from Danny Klinefelter
Timothy Terry, Farm Strategic Planning Specialist
Harvest New York
Last Modified: January 24, 2017

On January 5, 2017 the NY State Agricultural Society held its 185th Annual Meeting and Agricultural Forum in Liverpool, NY. Dr. Danny Klinefelter, Professor and Extension Economist from Texas A&M University gave the keynote address:
Attributes of Highly Successful Farmers and Collaborative Arrangements
. Provided is a synopsis of that address with some embellishments.
These attributes are not size, or even industry, dependent. They apply just as easily to the CEO of a large multi-national corporation as they will to the brew master of a start-up microbrewery. See how many you can check off as, "Yes, I do that."
PRO-DAIRY
Last Modified: January 29, 2016


For nearly 30 years, PRO-DAIRY has been positively impacting New York's dairy industry. Through its research, discussion groups, educational programs, financial analysis, websites, publications and personal contacts, the Cornell University based program reaches thousands of dairy professionals annually.
Rules of Good Farmstead Layout
Timothy Terry, Farm Strategic Planning Specialist
Harvest New York
Last Modified: December 11, 2015


General guidelines on how a farmstead should be laid out so that you can plan your next expansion.
To Rehab or Not to Rehab Older Farm Buildings
Timothy Terry, Farm Strategic Planning Specialist
Harvest New York
Last Modified: December 9, 2015


With many new facilities being constructed, and production animals being moved out of the old facilities, the question that remains is: What do we do with the old buildings? Do we raze it or remodel it? Has the structure outlived its useful life or with a little tweaking can it be part of another facet of the enterprise or even an entirely different enterprise? In order to answer these questions you will need to honestly evaluate the current status of the structure. Sentimentality aside, Humstone (1988) presents a 10-point preliminary checklist to begin evaluation of the feasibility of remodeling and/or restoring an existing barn.
10 Commandments of Manure Application
Timothy Terry, Farm Strategic Planning Specialist
Harvest New York
Last Modified: March 11, 2015


With the advent of spring weather, and most of us suffering varying degrees of cabin fever, the rush will soon be on to empty those manure storages. With that in mind, we offer you the 10 Commandments of Manure Application reminders.
Cow Comfort in Tie Stall Barns
Last Modified: June 19, 2014


An article on cow comfort in tie stall barns by David Balbian, Dairy Specialist, CNYDFC in the PRO-DAIRY section of the August 2013 edition of Dairy Business East.

Dairy Acceleration Program
Last Modified: June 19, 2014


The Dairy Acceleration Program is an initiative of Governor Cuomo in partnership with the NYS Department of Agriculture and Markets and the NYS Department of Environmental Conservation designed to enhance profitability of New York dairy farms while maintaining a commitment to environmentally responsible growth.
Dairy Farm Business Summary and Analysis (DFBS)
Last Modified: June 19, 2014


A tool to analyze the profitability and productivity of New York State dairy farms, comparing their business to other farms in their area, state and country. This allows them to make sound financial decisions and set future goals that will keep them competitive in the market.

Upcoming Events
Herbs in Context at River Garden
June 13, 2023
6:00 pm - 8:00 pm
Herbs have rich histories and are connected to cultural practices. In this workshop, participants will gain an introduction to ethnobotany and discuss ways to plan an herb garden that is culturally relevant to a community. Herb lovers of all experience levels welcome!

Soil Biology Field Day
June 28, 2023
3:00 - 6:00 pm EDT
New York, NY
Join us for a hands-on afternoon all about life in the soil, from microbes to mollusks. We'll cover new research on the microbiomes of urban ag soils; pests, beneficial insects, and other arthropods in the soil; strategies to support healthy soil biology on urban farms; biological amendments, with an arbuscular mycorrhizal fungi demonstration; and a wine cap mushroom inoculation demo.

Soil Health and Compost Basics (Part 1 of 2)
August 3, 2023
12:00 pm - 1:00 pm
Cornell Cooperative Extension, Partnerships for Parks, and NYC Parks GreenThumb bring you a two-part learning series on soil vitality and its impact on plants. Plant health is directly linked to the health of the soil it's growing in. If we take care of the soil, the soil will take care of our plants and crops.

Join us in this lunchtime webinar to learn the basics of soil science and soil health and different ways to assess, prepare, and amend the soil in order to improve its vitality.

Announcements
New York State Cannabis sativa L. Production Manual
The newly released New York State
Cannabis sativa L. Production Manual
is intended to provide current data and findings about sustainable hemp cultivation to growers and members of the Cannabis industry to achieve a high-quality, profitable, and compliant yield.
Cannabis sativa
yields are used for the development of hemp-based cannabinoid products, fiber, grain, and medicine.
The manual also includes information about the regulatory environment around hemp in New York and the United States, a description of
C. sativa
cultivation, information about testing and grading, as well as tips on how to produce a crop that meets international environmental and labor standards. Our objective is to help growers maximize yield, quality, profitability, and product integrity while maintaining compliance.
New Ag Climate Factsheet Released
The intersection of agricultural production and greenhouse gases is gathering increasing attention. This is an opportune time to consider how vegetable production interacts with carbon sequestration and greenhouse gas emissions, and how using cover crops may alter this picture.
The factsheet,
Greenhouse Gases and Soil Organic Carbon in Vegetable Production and the Role of Cover Crops
, written by Zach Spangler, Ag Climate Resiliency Specialist with CCE Harvest NY, and Elizabeth Buck, Fresh Market Vegetable Specialist, CCE Cornell Vegetable Program, discusses:
Sequestration of atmospheric carbon in agricultural soils as soil organic carbon (SOC). Is vegetable production impacting SOC?
Net greenhouse gas emissions of carbon dioxide (CO2), nitrous oxide (N2O), and methane (CH4) from the soil.
Impact of cover crops on soil organic carbon, nitrous oxide emissions, and other GHG emissions.