Edible Hemp Foliar Sampling Project 2018
Judson Reid, Extension Vegetable Specialist, Team Leader
Harvest New York
January 7, 2019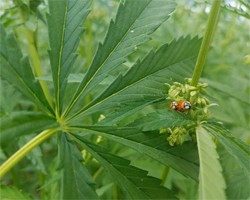 Hemp, a multi-use crop that has been cultivated for centuries, is increasingly cultivated in New York. 'Industrial hemp' is a non-intoxicant version of Cannabis sativa with potential use as fiber, grain or processed consumer products. Hemp is a controlled substance, regulated by the US Drug Enforcement Agency. New York is one of the states with a sanctioned program to study growth, cultivation and marketing of the crop.
In 2018 CCE worked with two farms in Central and Northern New York to begin to understand nutrient dynamics in the production of edible hemp. The end product may be a microgreen for salad style consumption, juice or smoothies; or formulated into other edible products. Although we initially began to work with microgreens, farmers have found interest in edible portions of later stages of crop growth too. In both situations the crop was grown inside a greenhouse; one in mineral soil, the other in potting soil.

Foliar sampling is a common crop management tool, particularly for greenhouse and high tunnel vegetables. Coupling a soil test with regular foliar tests, farmers can observe nutrient trends within the crop and make mid-stream adjustments before deficiencies or toxicities become visible and cause a yield loss.
The data shared in this final report is an average of foliar nutrient values throughout the growing season. In this initial year of testing we observed the following trends:
Both farms were near the lower range of sufficiency for nitrogen.
Hemp grown in potting media tested lower in magnesium and calcium.
The farm with mineral soil was deficient in foliar levels of phosphorus and potassium, due to low soil phosphors and potassium levels, high soil calcium and lack of fertilization.
Both farms showed lower levels of the micronutrient manganese; likely due to high water pH/alkalinity and soil calcium levels.
Read details about the study and see charts on the macronutrients, secondary nutrients, and micronutrients in the final report found below.
Edible Hemp Foliar Sampling Project 2018 (pdf; 278KB)
Upcoming Events
Herbs in Context at River Garden
June 13, 2023
6:00 pm - 8:00 pm
Herbs have rich histories and are connected to cultural practices. In this workshop, participants will gain an introduction to ethnobotany and discuss ways to plan an herb garden that is culturally relevant to a community. Herb lovers of all experience levels welcome!

Soil Biology Field Day
June 28, 2023
3:00 - 6:00 pm EDT
New York, NY
Join us for a hands-on afternoon all about life in the soil, from microbes to mollusks. We'll cover new research on the microbiomes of urban ag soils; pests, beneficial insects, and other arthropods in the soil; strategies to support healthy soil biology on urban farms; biological amendments, with an arbuscular mycorrhizal fungi demonstration; and a wine cap mushroom inoculation demo.

Soil Health and Compost Basics (Part 1 of 2)
August 3, 2023
12:00 pm - 1:00 pm
Cornell Cooperative Extension, Partnerships for Parks, and NYC Parks GreenThumb bring you a two-part learning series on soil vitality and its impact on plants. Plant health is directly linked to the health of the soil it's growing in. If we take care of the soil, the soil will take care of our plants and crops.

Join us in this lunchtime webinar to learn the basics of soil science and soil health and different ways to assess, prepare, and amend the soil in order to improve its vitality.

Announcements
New York State Cannabis sativa L. Production Manual
The newly released New York State
Cannabis sativa L. Production Manual
is intended to provide current data and findings about sustainable hemp cultivation to growers and members of the Cannabis industry to achieve a high-quality, profitable, and compliant yield.
Cannabis sativa
yields are used for the development of hemp-based cannabinoid products, fiber, grain, and medicine.
The manual also includes information about the regulatory environment around hemp in New York and the United States, a description of
C. sativa
cultivation, information about testing and grading, as well as tips on how to produce a crop that meets international environmental and labor standards. Our objective is to help growers maximize yield, quality, profitability, and product integrity while maintaining compliance.
New Ag Climate Factsheet Released
The intersection of agricultural production and greenhouse gases is gathering increasing attention. This is an opportune time to consider how vegetable production interacts with carbon sequestration and greenhouse gas emissions, and how using cover crops may alter this picture.
The factsheet,
Greenhouse Gases and Soil Organic Carbon in Vegetable Production and the Role of Cover Crops
, written by Zach Spangler, Ag Climate Resiliency Specialist with CCE Harvest NY, and Elizabeth Buck, Fresh Market Vegetable Specialist, CCE Cornell Vegetable Program, discusses:
Sequestration of atmospheric carbon in agricultural soils as soil organic carbon (SOC). Is vegetable production impacting SOC?
Net greenhouse gas emissions of carbon dioxide (CO2), nitrous oxide (N2O), and methane (CH4) from the soil.
Impact of cover crops on soil organic carbon, nitrous oxide emissions, and other GHG emissions.