Malting Barley Alternative Markets
Cheryl Bilinski, Local Food Systems Specialist, Farm to School Lead

March 27, 2017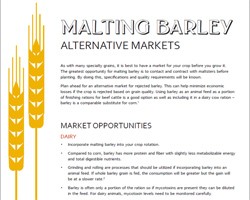 As with many specialty grains, it is best to have a market for your crop before you grow it. The greatest opportunity for malting barley is to contact and contract with maltsters before planting. By doing this, specifications and quality requirements will be known.

Plan ahead for an alternative market for rejected barley. This can help minimize economic losses if the crop is rejected based on grain quality. Using barley as an animal feed as a portion of finishing rations for beef cattle is a good option as well as including it in a dairy cow ration -- barley is a comparable substitute for corn.

This flyer will provide information about market opportunities for rejected barley and potential buyers.

This project was supported and funded by NY Farm Viability Institute.
Malting Barley Alternative Markets flyer, March 2017 (pdf; 333KB)