Buffalo Farm-to-School Project
Cheryl Bilinski, Local Food Systems Specialist, Farm to School Lead

July 7, 2016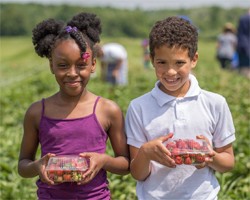 As part of the Harvest New York Buffalo Farm-to-School (F2S) initiative, 50 or so fourth and fifth grade students from Hillery Park Elementary School visited Burley Berries and East Hill Farms in Warsaw, New York to learn about where their food comes from.

The F2S initiative connects schools, farms and community partners to improve student nutrition through agriculture, health and nutrition education; and to strengthen the economy by supporting local farmers and food producers.

As students at an inner-city school, most of the Hillery Park students had not before set foot on a farm. And for many, the visit to East Hill farms was their first encounter with large animals.

View photo album.