Double Up Food Bucks Western NY Report, 2014-2015
Cheryl Bilinski, Local Food Systems Specialist, Farm to School Lead

April 4, 2016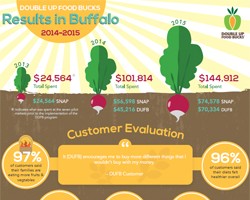 Double Up Food Bucks (DUFB) uses existing infrastructure -- farmers markets and EBT - the mechanism SNAP recipients use to receive their benefits -- to improve access to and affordability of fresh fruits and vegetables for low-income individuals and families and grow the local food economy by supporting purchases from local farmers.

In our 2014 pilot season DUFB was administered at 7 area farmers markets, spanning 3 counties. In 2015, the DUFB program expanded to 15 farmers markets, including a mobile market, spanning five counties.

Marketing and outreach are key components of a successful DUFB program. Field & Fork Network provides the farmers markets with hands-on training and a variety of marketing and promotion tools including: flyers & posters, banners, signage for participating vendors.

Community partnerships such as our partnership with EatSmart NY, the SNAP education program for New York State, has proven beneficial in enhancing the program for participants by providing nutrition education, cooking demonstrations and recipes.

For more information on the DUFB results in Buffalo, download the Double Up Food Bucks Western NY Report, 2014-2015 below.
DUFB 2014-2015 Final Report (pdf; 3635KB)