Double Up Food Bucks 2014 Year End Report
Cheryl Bilinski, Local Food Systems Specialist, Farm to School Lead

June 19, 2015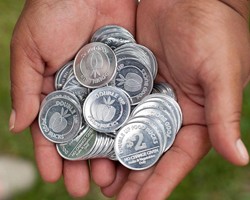 Using philanthropic funds, Double Up Food Bucks (DUFB) matches Supplemental Nutrition Assistance Program (SNAP) purchases of fresh fruits and vegetables at participating farmers markets up to $20/market/day. The program aims to improve access to and affordability of fresh fruits and vegetables for low-income families and grow the local economy by supporting purchases from local farmers.

Piloted in 2014, the DUFB program is viewed as a tremendous success in meeting program goals. Below is a brief overview of the program success realized at participating markets in 2014:
219% increase in SNAP sales sales
415% increase in total food assistance dollars (SNAP + DUFB)
1,000+ new customers to the market
90% of customers have increased the amount of fresh fruits and vegetables they are buying
87% of customers have increased trips to the farmers markets
93% of customers are eating more fruits and vegetables
70% farmers say they are making more money
62% reported they have a new customer base
The program is made possible by the generous support of the following foundations: John R Oishei Foundation, Community Foundation of Greater Buffalo, First Niagara Foundation, Univera, East Hill Foundation, Grigg Lewis Foundation, M&T Foundation, and Chautauqua Region Community Foundation.
2014 DUFB Year End Report (pdf; 142KB)