Farm to School at the Hudson Valley Food Show
Becky O'Connor, WNY Farm to Institution Coordinator

April 25, 2022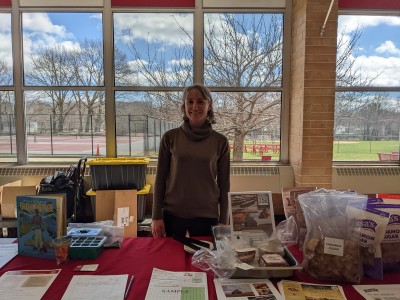 On April 8th the Hudson Valley Food Service Directors Coalition organized a food show for area food service directors. CCE Harvest NY worked with the coalition, partnering to bring in additional vendors that showcased local, NYS products that are available to schools. The event was held at North Rockland High School.
In addition to vendors who have worked with area schools for years, the group brought in some products not previously available in this region of the state. The NY grown, raised, and produced foods featured at the show included Hometown Dairy Distributors; Dagele Produce; Peterson Farms applesauce and sliced apples; Hudson Valley Farm Hub's corn tortillas, vegetables, and flour; Slate Foods ground beef, hot dogs, and meatballs; Issa's Flame Baked Pita Chips; Roc Star Ice Cream's Miss Mila's Chocolate Chip Cookies; Cascun Farms chicken; and Botanaline hot dogs. Food service directors had a long overdue chance to meet vendors in-person, get details about the products, and, most importantly, taste samples of most of these foods.
The Hudson Valley Regional Farm to School Coordinators had a great time at this event and welcomed the chance to be in-person with so many enthusiastic food vendors and food service directors. We are continuing to work with our local distributors to make these products available to schools. If you would like more information about any of the products listed, or simply want to talk more about farm to school in your district, please reach out to us!
Katie Sheehan-Lopez, kms369@cornell.edu Regional Farm to School Coordinator for the Upper Hudson Valley (Dutchess, Ulster, Sullivan, Delaware, Greene, and Columbia Counties)
Kristy Apostolides, kda4@cornell.edu Regional Farm to School Coordinator for the Lower Hudson Valley (Orange, Putnam, Westchester, and Rockland Counties)
Local foods (jpg; 4496KB)