Harvest of the Month Marketing Materials
Becky O'Connor, Farm to School Coordinator, WNY & Finger Lakes

October 13, 2020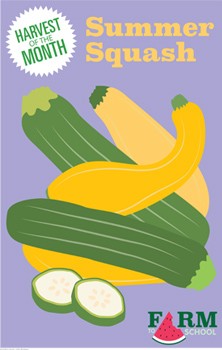 The Harvest of the Month posters, newsletters, and infographics were originally created for Buffalo Public Schools Farm to School program by a graphic designer to help highlight and promote the consumption of locally-grown, raised, and produced foods. Buffalo F2S team partner, Cornell Cooperative Extension of Erie County, developed content for the newsletters and infographics. Buffalo Public Schools agreed to share the materials with any F2S program that would like to use them, and Harvest New York created generic versions of the materials which are available below for download. The materials can be edited and adapted for your district or program's use. For questions, more information about editing and printing the materials, or for the Adobe InDesign files, please contact Becky O'Connor, Harvest New York's WNY Farm to Institution Coordinator.
There are many ways to use the Harvest of the Month Materials to highlight and promote the consumption of local foods. In Buffalo Public Schools, posters are displayed inside cafeterias, or in the hallways leading to lunch rooms. Infographics are placed atop lunch tables, highlighting the Harvest of the Month menu item being served. Newsletters are shared with families and households via email or as printouts. The materials have been made available to teachers, who can use them in their classroom instruction.
Special thanks to Buffalo Public Schools for sharing these resources; graphic designer Julian Montague for creating the materials; and Cornell Cooperative Extension of Erie County's SNAP-Ed nutrition educators for developing newsletter and infographic content.