Vegetable Planting Guide for the New York City Area
Yolanda Gonzalez, Urban Agriculture Specialist
Harvest New York
July 28, 2020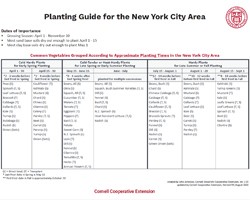 Originally created by John Ameroso, Cornell University Cooperative Extension, this handy table lists common vegetables grouped by the approximate planting times in the New York City area. Find out what crops will fare well in early Spring plantings, late Spring or early Summer plantings, or that are hardy enough to be planted in late Summer or in the Fall.
Planting Guide for the New York City Area (pdf; 228KB)
Upcoming Events
No upcoming events at this time.