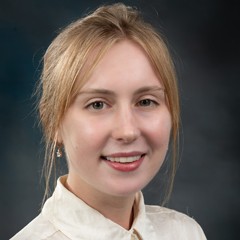 Anya Osatuke
WNY Small Fruit Specialist
cell 607-752-2793
email Anya
Anya has a broad background in berry and small fruit production and works in close collaboration with the New York State Berry Growers Association and other fruit specialists to develop and implement programs and trouble-shoot issues with berries and small fruit on commercial farms. She earned her M.S. in Horticulture from Cornell University with Dr. Marvin Pritts, focusing on field management and site characteristics and their effects on strawberry quality issues and fruit yield on New York State berry farms. Anya earned her B.A. in Botany and Russian Studies from Miami University.
Upcoming Events
Herbs in Context at River Garden
June 13, 2023
6:00 pm - 8:00 pm
Herbs have rich histories and are connected to cultural practices. In this workshop, participants will gain an introduction to ethnobotany and discuss ways to plan an herb garden that is culturally relevant to a community. Herb lovers of all experience levels welcome!

Soil Biology Field Day
June 28, 2023
3:00 - 6:00 pm EDT
New York, NY
Join us for a hands-on afternoon all about life in the soil, from microbes to mollusks. We'll cover new research on the microbiomes of urban ag soils; pests, beneficial insects, and other arthropods in the soil; strategies to support healthy soil biology on urban farms; biological amendments, with an arbuscular mycorrhizal fungi demonstration; and a wine cap mushroom inoculation demo.

Soil Health and Compost Basics (Part 1 of 2)
August 3, 2023
12:00 pm - 1:00 pm
Cornell Cooperative Extension, Partnerships for Parks, and NYC Parks GreenThumb bring you a two-part learning series on soil vitality and its impact on plants. Plant health is directly linked to the health of the soil it's growing in. If we take care of the soil, the soil will take care of our plants and crops.

Join us in this lunchtime webinar to learn the basics of soil science and soil health and different ways to assess, prepare, and amend the soil in order to improve its vitality.

Announcements
New York State Cannabis sativa L. Production Manual
The newly released New York State
Cannabis sativa L. Production Manual
is intended to provide current data and findings about sustainable hemp cultivation to growers and members of the Cannabis industry to achieve a high-quality, profitable, and compliant yield.
Cannabis sativa
yields are used for the development of hemp-based cannabinoid products, fiber, grain, and medicine.
The manual also includes information about the regulatory environment around hemp in New York and the United States, a description of
C. sativa
cultivation, information about testing and grading, as well as tips on how to produce a crop that meets international environmental and labor standards. Our objective is to help growers maximize yield, quality, profitability, and product integrity while maintaining compliance.
New Ag Climate Factsheet Released
The intersection of agricultural production and greenhouse gases is gathering increasing attention. This is an opportune time to consider how vegetable production interacts with carbon sequestration and greenhouse gas emissions, and how using cover crops may alter this picture.
The factsheet,
Greenhouse Gases and Soil Organic Carbon in Vegetable Production and the Role of Cover Crops
, written by Zach Spangler, Ag Climate Resiliency Specialist with CCE Harvest NY, and Elizabeth Buck, Fresh Market Vegetable Specialist, CCE Cornell Vegetable Program, discusses:
Sequestration of atmospheric carbon in agricultural soils as soil organic carbon (SOC). Is vegetable production impacting SOC?
Net greenhouse gas emissions of carbon dioxide (CO2), nitrous oxide (N2O), and methane (CH4) from the soil.
Impact of cover crops on soil organic carbon, nitrous oxide emissions, and other GHG emissions.