Event Details
Date
October 23, 2022
Time
11:00 am - 3:00 pm
Location
Randall's Island Urban Farm
Wards Meadow Loop
New York, NY 10035
Host
The New York Mycological Society
NYC Fungus Festival
October 23, 2022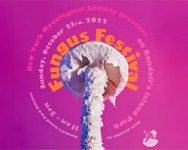 Like New Yorkers, fungi are fascinating, surprising, diverse and interconnected. That's why
The New York Mycological Society
is celebrating them at New York City's very first Fungus Festival on Randall's Island! This free community event welcomes mushroom-curious amateurs and experts of all ages!
At the event...
Mushroom displays and identification tables
Expert-led mushroom walks

Art and cultivation workshops

Food and mushroom tea samples

Lectures by experts on a variety of topics

Kids activities (face painting, costume making and art workshops)

Mushroom books, merchandise and art

Excursiones en Espaņol

and much more!

REGISTER for reminders and updates!