Event Details
Date
January 27, 2021
Time
10:00 - 11:30am
Location
Online
Host
USDA NRCS
Lynnette Wright, USDA FSA
315-477-6309
Technical and Financial Resources for Urban Farmers in NYS
January 27, 2021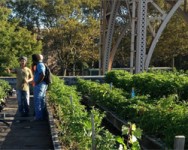 Learn about technical and financial resources available for urban farmers in New York State. This webinar will introduce you to urban agriculture field staff from a variety of organizations that provide direct support for urban farmers and community gardeners. Urban farmers will also share their experience working with these field staff and ways to participate in the programs and services offered by each organization. This event is hosted by USDA NRCS.
AGENDA:
Blake Glover (USDA NRCS, State Conservationist) - Welcome and Opening Remarks
Richard Ball (New York State Commissioner of Agriculture) - Overview of Urban and Community Agriculture in New York State
Karen Washington (Garden of Happiness, Rise and Root Farm) - Learn how one urban farmer identified and utilized government resources for urban agriculture.
Joseph Heller (USDA NRCS, Urban Conservationist) and Onika Abraham (Farm School NYC) - Overview of USDA technical and financial resources for urban farmers. A unique example of how partnerships help foster stronger connections within New York City's agriculture community.
Kim Vallejo (NYS Department of Agriculture and Markets, New York City Team Director) - Resources for urban and community gardens from the State of New York.
Liz Camps (USDA NRCS, District Conservationist) - NRCS technical and financial assistance programs for urban farmers will be explained with examples from a current participant.
Lynnette Wright (USDA FSA) - Increase knowledge of financial assistance through the loan programs. Hear from participants about help they received through FSA.
Yolanda Gonzalez (Cornell Cooperative Extension, Harvest New York, Urban Agriculture Specialist) - CCE offers production, marketing, food safety training and more. Hear from past participants about how these trainings have had a positive impact on their urban and community agriculture operation.
Register for the event
to receive a link to the zoom webinar. Additional information will be provided for break out rooms that will take place immediately after the event for one-on-one interactions with the urban agriculture specialists.
Persons with disabilities who require accommodations to attend or participate in this meeting should contact Lynnette Wright, Public Affairs Specialist, at 315-477-6309 or Federal Relay Service at 1-800-877-8339.