Event Details
Date
July 1, 2020
Time
3:30 - 5:00pm
Location
Virtual Workshop
Host
Harvest New York
Yolanda Gonzalez
516-305-0358
email Yolanda Gonzalez
Pre-Registration Deadline: June 30, 2020

EVENT HAS PASSED
Integrated Pest Management for Urban Farmers
July 1, 2020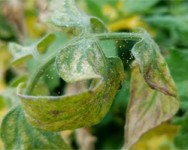 In this virtual workshop we will learn about scouting for pests and releasing beneficial insects on urban farms. Our guest presenter is Carol Glenister, founder and president of
IPM Labs
and one of our area's foremost experts on biological controls, and we'll have examples and discussion from NYC urban farmers.
We will be looking especially at the example of two-spotted spider mite (very common but often unnoticed on NYC urban farms) along with other common NYC vegetable crop pests, with time for discussion, Q&A, and possibly some show-and-tell.
This is a FREE event.
Register online
by June 30 to receive sign-in details.