Event Details
Date
April 1, 2020
Time
5:30 PM
Location
CCE Wyoming County
36 Center St, Room LC1
Warsaw, NY 14569
Cost
$10.00 per farm


Host
CCE Wyoming County and Harvest NY
Esther Kibbe
607-351-1991
email Esther Kibbe
POSTPONED - Raspberries 101 Workshop
April 1, 2020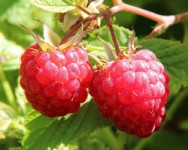 THIS EVENT HAS BEEN POSTPONED INDEFINITELY.
Have you ever wanted to grow raspberries, but didn't know where to start? This course, hosted by CCE Wyoming County, will help you get started, from selecting and preparing a planting site, to choosing varieties and planting them. You will also learn about trellis systemsand systems and how to prune and fertilize the plants through the seasons. This event will be taught by Esther Kibbe, Berry Specialist with Cornell Cooperative Extension, Harvest NY. Esther brings a wealth of berry background having worked for Driscoll's Inc as a plant breeder and global trainer for scientific staff, and a consultant for a number of farms in Western NY.
Cost: $10 per farm. Register by calling Lisa at 585-786-2251 x126 or
email Lisa
. Or
register online
. Questions? Contact Don Gasiewicz at 585-786-2251 x113.