Event Details
Date
November 14, 2019
Time
Thurs, 1:00-4:00pm
Location
Alfred State College, College Farm
1254 State Route 244
Alfred, NY 14802
Cost
$10.00 per farm


Host
CCE Allegany Co., Harvest NY, Alfred State College
Lynn Bliven
585-268-7644 x18
email Lynn Bliven
Pre-Registration Deadline: November 11, 2019
Berry Growers Workshop
November 14, 2019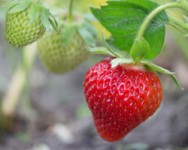 Join Harvest NY Berry Specialist, Esther Kibbe, as she guides potential and established berry growers through site selection and preparation, managing fertility in established plantings, and interactive small group discussions of case studies. This event is being hosted by CCE Allegany County, Harvest NY, and Alfred State College.

Pre-registration is required. Please RSVP by November 11, 2019. Cost $10/farm. Use the PDF form below to mail in your registration and payment.
You may make phone reservations: 585-268-7644 ext. 18, or
email reservations to Lynn
to hold your spot and pay at the door.
About the featured speaker:
Harvest NY Berry Specialist, Esther Kibbe serves growers with support on pest management,variety selection, fertility and cultural management for strawberries, blueberries and raspberries. Esther brings a wealth of berry background having worked for Driscoll Strawberry Associates as a plant breeder and global trainer for scientific staff, and a consultant for a number of farms in Western NY.
Berry Growers Workshop Registration Form (PDF; 175KB)