Event Details
Date
July 17, 2019
Time
Weds, 5:30 - 7:30pm
Location
Green Valley Garden (Isabahlia Farm)
93 New Lots Ave (corner of New Lots Ave & Sachman)
Brooklyn, NY 11212
Host
CCE, Farm School NYC, and Just Food
Yolanda Gonzalez
516-305-0358
email Yolanda Gonzalez
Learn to Grow Mushrooms in NYC
July 17, 2019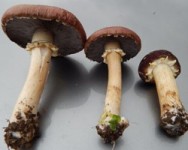 Both a food and a medicine, mushrooms are easy to grow at home and on gardens and farms, with minimal start-up costs and materials you may already have on hand. Join Cornell Cooperative Extension, Farm School NYC, and Just Food for a workshop where you'll learn to inoculate a shiitake log, grow oysters on straw, and plant wine cap in wood chips. Everyone takes home materials that will produce mushrooms! We will emphasize the potential for growing mushrooms as a small enterprise for community and local markets.
Directions: B14 bus to Dumont Ave & Powell Street and walk 4 blocks up toward New Lots Ave, make a right on New lots Ave to Sachman and you are at the garden. L Train to New Lots Ave, When you Exit walk to the left 2 blocks down and arrive at the Green Valley Garden. 3 Train to Junius Street take right Exit walk to Sachman make a left on Sachman then walk 4 blocks to garden. B15 bus to New Lots Ave & Sachman, cross street and you are at the garden.
INSTRUCTORS:
Yolanda Gonzalez
is Urban Agriculture Specialist for Cornell Cooperative Extension Harvest NY and lives in NYC supporting urban farmers.
Jie Jin
is a mushroom grower and founder of Curiouseed, an education studio dedicated to cultivating eco consciousness through playful, experimental and hands-on programming and experiences.
Steve Gabriel
is extension specialist for Cornell Small Farms Program and a mushroom farmer in the Finger Lakes Region of NY.

COST:
These workshops are FREE due to supportive funding from USDA and Cooperative Extension. We have limited spaces so please only register if you are committed to coming.

TO REGISTER:
https://www.surveymonkey.com/r/NYCMushroomClasses2019

Want to learn more about mushrooms? Find more information on mushrooms or check out the Harvest NY Urban Ag Program on Instagram (urbanag.nyc)

This material is based upon work supported by the National Institute of Food and Agriculture, U.S. Department of Agriculture, through the Northeast Sustainable Agriculture Research and Education program under subaward number ENE19-156-33243.