Event Details
Date
May 22, 2019
Time
Wednesday, 9:00 AM - 4:30 PM
Location
Cornell University, Stocking Hall Conference Center
411 Tower Rd
Ithaca, NY 14853
Cost
$50.00 per registrant


Space is limited to first 40 registrants.


Host
Cornell Dairy Foods Extension and CCE Harvest NY
Pre-Registration Deadline: May 14, 2019

EVENT HAS PASSED
Strategic Workforce Approaches Symposium
May 22, 2019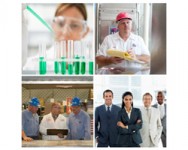 Retention. Attraction. Workforce. People. The dairy industry has consistently shared that these factors need to be improved. Our Cornell Dairy team is hosting a Strategic Workforce Approaches Symposium on Wednesday, May 22nd where we will be hearing from industry partners on existing workforce development resources and current strategies that are working for businesses. Featured speakers will include the Manufacturers Association of Central New York; Bruce Krupke, Executive Vice President of Northeast Dairy Foods Association; Dr. Richard Stup, Agriculture Workforce Specialist of Cornell University; and an industry panel, "Navigating Employee Interaction Strategies."
Following our speakers, we would like input from the audience on how Cornell can best assist processors in developing their workforce.
Cost: $50 registration fee. Registration and fees must be received by Tuesday, May 14. The course is limited to the first 40 registrants.

Register now>>
The course will be located in the Stocking Hall Conference Center, Stocking Hall, Cornell University, 411 Tower Rd., Ithaca NY.
Upcoming Events
No upcoming events at this time.
Announcements
Guidelines for U-Pick Changes due to COVID-19
April 29, 2020
Many growers who allow customers to come and pick their own vegetables and fruits have been concerned about how that will work in this time of social distancing and closed businesses. At this time, the state has not prohibited U-Pick or on-farm sales. Cornell has just released a document outlining best practices and ideas for growers who choose to allow the public on their farms. Read the
Best Management Practices for U-Pick Farms During the COVID-19 Pandemic
.
NYC Market Growers Update
The Cornell Cooperative Extension Urban Agriculture Program offers an email publication,
NYC Market Growers Update
. This occasional publication is focused on production-oriented resources for NYC urban farmers who are growing for market or growing at a similar scale.
>>
Sign up for the NYC Market Growers Update