Event Details
Date
May 22, 2019
Time
Wednesday, 9:00 AM - 4:30 PM
Location
Cornell University, Stocking Hall Conference Center
411 Tower Rd
Ithaca, NY 14853
Cost
$50.00 per registrant


Space is limited to first 40 registrants.


Host
Cornell Dairy Foods Extension and CCE Harvest NY
Pre-Registration Deadline: May 14, 2019

EVENT HAS PASSED
Strategic Workforce Approaches Symposium
May 22, 2019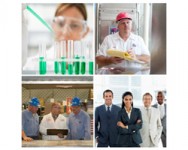 Retention. Attraction. Workforce. People. The dairy industry has consistently shared that these factors need to be improved. Our Cornell Dairy team is hosting a Strategic Workforce Approaches Symposium on Wednesday, May 22nd where we will be hearing from industry partners on existing workforce development resources and current strategies that are working for businesses. Featured speakers will include the Manufacturers Association of Central New York; Bruce Krupke, Executive Vice President of Northeast Dairy Foods Association; Dr. Richard Stup, Agriculture Workforce Specialist of Cornell University; and an industry panel, "Navigating Employee Interaction Strategies."
Following our speakers, we would like input from the audience on how Cornell can best assist processors in developing their workforce.
Cost: $50 registration fee. Registration and fees must be received by Tuesday, May 14. The course is limited to the first 40 registrants.

Register now>>
The course will be located in the Stocking Hall Conference Center, Stocking Hall, Cornell University, 411 Tower Rd., Ithaca NY.
Upcoming Events
No upcoming events at this time.
Announcements
NY Crop Insurance Availability by County & Crop
Apiculture, Dairy-RP, LGM, Nursery, PRF and WFRP policies are available throughout the entire state. Here is a table showing RMA
crop insurance availability by county and crop in New York State
.
If a crop is not covered in your county, you may still be eligible for a written agreement for that crop. Please
contact an insurance agent
to see if this is an option for you.
More information about crop insurance is available through Cornell's
New York Crop Insurance Education Program
.
Beginning Producer Benefits for Crop Insurance
A qualifying beginning producer can potentially receive benefits in the crop insurance program. These benefits are designed to help start your operation. In this article, Stephen Hadcock, Capital Area Agriculture and Horticulture Program, outlines the 4
crop insurance benefits available to beginning producers
.
1) An exemption from paying the administrative fee for catastrophic coverage and additional coverage.
2) Receive an additional 10 percentage points of premium subsidy for additional coverage policies with a subsidy premium.
3) Utilize the actual production history (APH) of a farming operation that producer was previously involved in.
4) Utilize 80% of an applicable T-yield, instead of the normal 60%, as a substitute Yield Adjustment.