Event Details
Date
April 8, 2019
Time
Monday, 6:30 - 8:30 PM
Location
Prime Produce
424 West 54th Street
New York, NY 10019
Cost
$10.00

No refunds


Host
Seeds to Soil and CCE Urban Agriculture Program
Sam Anderson
email Sam Anderson
Growing Tomatoes for Market
April 8, 2019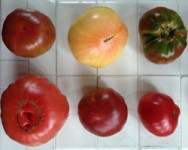 As promised, we're doing a pre-season tomato workshop!
Jason Grauer
will share tomato growing techniques for small market growers, from selecting varieties and propagating seedlings to trellising and pruning.
Sam Anderson
will also review some of last year's worst tomato pests and diseases in NYC and what to do about them.
Register here >>
Hosted by Seeds to Soil @ Prime Produce and Cornell Cooperative Extension's Urban Agriculture Program
Upcoming Events
Strategic Workforce Approaches Symposium
May 22, 2019
Wednesday, 9:00 AM - 4:30 PM
Ithaca, NY
Retention. Attraction. Workforce. People. The dairy industry has consistently shared that these factors need to be improved. Our Cornell Dairy team is hosting a Strategic Workforce Approaches Symposium on Wednesday, May 22nd where we will be hearing from industry partners on existing workforce development resources and current strategies that are working for businesses. Featured speakers will include the Manufacturers Association of Central New York; Bruce Krupke, Executive Vice President of Northeast Dairy Foods Association; Dr. Richard Stup, Agriculture Workforce Specialist of Cornell University; and an industry panel, "Navigating Employee Interaction Strategies."

Announcements
NYS Agricultural Soil Survey
In order to better understand the unique soils used in New York City's urban farms, Cornell Cooperative Extension's urban agriculture program launched the NYC Survey of Agricultural Soils in 2018. After obtaining soil and plant tissue analysis from ten urban farms in NYC, we are expanding the survey in 2019 with the goal of informing best management practices for unique productive urban soils. See our
preliminary findings and more information
, including a how-to tip sheet for NYC urban farmers on collecting soil samples and getting a soil test.