Event Details
Date
April 8, 2019
Time
Monday, 6:30 - 8:30 PM
Location
Prime Produce
424 West 54th Street
New York, NY 10019
Cost
$10.00

No refunds


Host
Seeds to Soil and CCE Urban Agriculture Program
Sam Anderson
email Sam Anderson
Growing Tomatoes for Market
April 8, 2019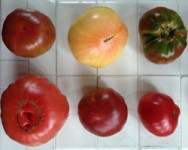 As promised, we're doing a pre-season tomato workshop!
Jason Grauer
will share tomato growing techniques for small market growers, from selecting varieties and propagating seedlings to trellising and pruning.
Sam Anderson
will also review some of last year's worst tomato pests and diseases in NYC and what to do about them.
Register here >>
Hosted by Seeds to Soil @ Prime Produce and Cornell Cooperative Extension's Urban Agriculture Program
Upcoming Events
No upcoming events at this time.
Announcements
NY Crop Insurance Availability by County & Crop
Apiculture, Dairy-RP, LGM, Nursery, PRF and WFRP policies are available throughout the entire state. Here is a table showing RMA
crop insurance availability by county and crop in New York State
.
If a crop is not covered in your county, you may still be eligible for a written agreement for that crop. Please
contact an insurance agent
to see if this is an option for you.
More information about crop insurance is available through Cornell's
New York Crop Insurance Education Program
.
Beginning Producer Benefits for Crop Insurance
A qualifying beginning producer can potentially receive benefits in the crop insurance program. These benefits are designed to help start your operation. In this article, Stephen Hadcock, Capital Area Agriculture and Horticulture Program, outlines the 4
crop insurance benefits available to beginning producers
.
1) An exemption from paying the administrative fee for catastrophic coverage and additional coverage.
2) Receive an additional 10 percentage points of premium subsidy for additional coverage policies with a subsidy premium.
3) Utilize the actual production history (APH) of a farming operation that producer was previously involved in.
4) Utilize 80% of an applicable T-yield, instead of the normal 60%, as a substitute Yield Adjustment.