Event Details
Date
January 7 - January 9, 2019
Time
2.5 day class
Location
CCE Jefferson County
203 North Hamilton St
Watertown, NY 13601
Cost
$725.00 NYS registration fee (prior to 12/18/18)


$880.00 NYS late registration fee (after 12/18/18)


Out-of-state registration is available too.


Host
Cornell University Dairy Foods Extension
Louise Felker
email Louise Felker
Pre-Registration Deadline: December 18, 2018

EVENT HAS PASSED
Preventive Controls Qualified Individual Training: Preventive Controls for Human Food
January 7 - January 9, 2019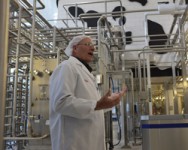 This 2.5 day Class will fulfill FDA Requirements for FSMA Qualified Individual Training.
The Current Good Manufacturing Practice, Hazard Analysis, and Risk-based Preventive Controls for Human Food regulation is intended to ensure safe manufacturing/processing, packing and holding of food products for human consumption in the United States. The regulation requires that certain activities must be completed by a "preventive controls qualified individual" who has "successfully completed training in the development and application of risk-based preventive controls". This course developed by the FSPCA is the "standardized curriculum" recognized by FDA; successfully completing this course is one way to meet the
requirements for a "preventive controls qualified individual."
Course description provided b y the Food Safety Preventive Controls Alliance
The course is ideally suited for:
Federal Regulators/Inspectors
State Regulators/Inspectors
Management
Production
QA/QC
Maintenance Personnel
These courses are taught by Lead Instructors trained by the Food Safety Preventive Controls Alliance (FSPCA), who have been instructed in how to teach the FDA-recognized standardized curriculum. CCE Harvest NY's Barbara Williams will be one of the instructors at this event.

Registration and payments must be received by Tuesday, December 18, 2018. The course is limited to the first 30 registrants.
Upcoming Events
Strategic Workforce Approaches Symposium
May 22, 2019
Wednesday, 9:00 AM - 4:30 PM
Ithaca, NY
Retention. Attraction. Workforce. People. The dairy industry has consistently shared that these factors need to be improved. Our Cornell Dairy team is hosting a Strategic Workforce Approaches Symposium on Wednesday, May 22nd where we will be hearing from industry partners on existing workforce development resources and current strategies that are working for businesses. Featured speakers will include the Manufacturers Association of Central New York; Bruce Krupke, Executive Vice President of Northeast Dairy Foods Association; Dr. Richard Stup, Agriculture Workforce Specialist of Cornell University; and an industry panel, "Navigating Employee Interaction Strategies."

Announcements
NYS Agricultural Soil Survey
In order to better understand the unique soils used in New York City's urban farms, Cornell Cooperative Extension's urban agriculture program launched the NYC Survey of Agricultural Soils in 2018. After obtaining soil and plant tissue analysis from ten urban farms in NYC, we are expanding the survey in 2019 with the goal of informing best management practices for unique productive urban soils. See our
preliminary findings and more information
, including a how-to tip sheet for NYC urban farmers on collecting soil samples and getting a soil test.