Event Details
Date
November 7 - November 8, 2018
Location
Crowne Plaza
101 Olympic Drive
Lake Placid, NY 12946
Cost
$75.00 per person


Host
Harvest NY and the Dyson School of Applied Econ
Lindsey Pashow
518-569-3073
email Lindsey Pashow
Pre-Registration Deadline: October 31, 2018

EVENT HAS PASSED
2018 Cornell Agribusiness Strategic Marketing Confernece
November 7 - November 8, 2018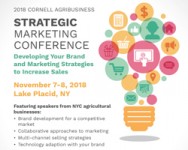 Developing Your Brand and Marketing Strategies to Increase Sales
This program will focus on brand development for a competitive market, collaborative approaches to marketing, multi-channel selling strategies, and technology adaption with your brand.
All members of the agricultural community are encouraged to attend!
Registration fee: $75. Farmer scholarships are available. Registration, agenda, and conference information is available at
dyson.cornell.edu/outreach/strategic-marketing-conference
The event is organized by CCE Harvest NY and the Charles H. Dyson School of Applied Economics and Management at Cornell University. This conference is funded by the Stanley W. Warren Teaching Endowment and the Dyson School. It is sponsored by CoBank, Adirondack Harvest, Farm Credit East, and Agricultural Marketing Community Economic Development Program Work Team at Cornell University.