Event Details
Date
July 1 - December 31, 2018
Location
Online
Cost
$500.00

Host
Harvest NY and Cornell Dairy Foods Extension
Anika Zuber
5858133539
email Anika Zuber
Pre-Registration Deadline: November 1, 2018

EVENT HAS PASSED
Fluid Milk Processing for Quality and Safety (Online Course)
July 1 - December 31, 2018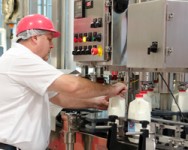 This online workshop is designed for those involved and interested in fluid milk processing and testing with the intent of providing the tools to support and improve on quality assurance/control and food safety programs for bottled milks. While the course design assumes participants have some prior knowledge of dairy microbiology & processing (e.g., Dairy Science & Sanitation Course), critical concepts will be reviewed and expanded on for those who do not. This course can be taken as a stand-along program, but it also fulfills the core training requirement of a Cornell Dairy Foods Certificate for Fluid Milk Processing for Quality and Safety after all required prerequisite courses have been taken (e.g., Dairy Science & Sanitation, HACCP, HTST).
This course takes 6 months to complete. Participants will be given 2-4 chapters each month to complete. Approximately 15 hours of instruction time is provided. This online course earns 2 CEUs.
Rolling registration is available May 2 - November 1 for this session.