Event Details
Date
May 31 - June 1, 2017
Location
Cornell University, Stocking Hall
411 Tower Rd
Ithaca, NY 14853
Cost
$600.00 NYS Early Fee (prior to 5/17/17)
(additional attendee $600.00 ea.)

$725.00 Out-of-State Early Fee (prior to 5/17/17)
(additional attendee $725.00 ea.)

After 5/17/17 Costs: $725 for NYS; $900 Out-of-State


Host
Harvest NY and Cornell Dairy Extension

607-255-3459
Pre-Registration Deadline: May 17, 2017

EVENT HAS PASSED
Cured Meats Workshop
May 31 - June 1, 2017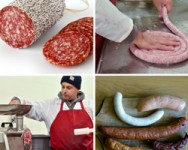 The Cured Meats Workshop is tailored to small-scale meat processors and restaurant owners interested in creating a value-added meat product for their customers.
The course consists of lecture sessions that will cover basic charcuterie, meat fabrication, casings, grinding, as well as an overview of HACCP, scheduled processes, and testing. Participants will also learn through on-hands sessions the basics of cured meats production in coppa, pancetta, speck and others.
Time and agenda to be announced soon.
For more information about this event,
contact MacKenzie Waro
.