Event Details
Date
March 27 - March 28, 2018
Time
Tues: 8:00 AM registration, 8:45 AM - 6:00 PM includes networking time
Location
del Lago Casino and Resort
1133 NY Rt 414
Waterloo, NY 13165
Host
Seneca County Cornell Cooperative Extension
Derek Simmonds
315-539-9251
email Derek Simmonds
Pre-Registration Deadline: March 20, 2018
Finger Lakes Craft Beverage Conference
March 27 - March 28, 2018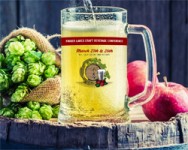 2018 Finger Lakes Craft Beverage Conference
The 2018 Finger Lakes Craft Beverage Conference will be on Tuesday March 27th at the del Lago Casino & Resort in Waterloo, NY featuring multiple tracks with sessions covering legal issues, tax issues, marketing, distribution, beer and cider production issues. Hear from Government officials, craft beverage industry representatives, university researchers, extension educators, brewers, and cider makers about important topics related to your business and industry.
Harvest NY Ag Business Development and Marketing Specialist, Lindsey Pashow, will be discussing CCE's Cider Apply Supply Chain Survey.
This event includes a trade show and opportunities for networking (including a Social Hour following the sessions) with others in your industry. The cost for this event is $100 (or $90 for each additional person from the same brewery, cidery, or farm). This includes a light breakfast, lunch, an evening social hour and a 2018 Finger Lakes Craft Beverage Glass. Be sure to register early (before March 20th) to avoid the late registration price of $115.
Register online
for the conference. Sponsored by Waterloo Container.

Finger Lakes Craft Beverage Conference Field Trips
The day following the main 2018 Finger Lakes Craft Beverage Conference we have two separate field trips planned (this costs an extra $20). Participants will choose between the 'Brewery' field trip and the 'Cidery' field trip. The Brewery Field trip will include a trip to Fleur de Lis Beer Works. They will be brewing one of their beers while we are there -explaining the steps as they brew. The Cidery Field trip will be to Red Jacket Orchard and Nursery, as well as a local cidery to be decided.
This registration site is for people registering for the Finger Lakes Craft Beverage Conference (FLCBC), or people registering for the FLCBC and the FLCBC Field Trips.
To register JUST for one of the field trips, go to: https://reg.cce.cornell.edu/FLCBC_fieldtrip-2018_245
Please call Seneca County CCE 315-539-9251 or
email Derek Simmonds
with any questions.
Upcoming Events
Strategic Workforce Approaches Symposium
May 22, 2019
Wednesday, 9:00 AM - 4:30 PM
Ithaca, NY
Retention. Attraction. Workforce. People. The dairy industry has consistently shared that these factors need to be improved. Our Cornell Dairy team is hosting a Strategic Workforce Approaches Symposium on Wednesday, May 22nd where we will be hearing from industry partners on existing workforce development resources and current strategies that are working for businesses. Featured speakers will include the Manufacturers Association of Central New York; Bruce Krupke, Executive Vice President of Northeast Dairy Foods Association; Dr. Richard Stup, Agriculture Workforce Specialist of Cornell University; and an industry panel, "Navigating Employee Interaction Strategies."

Announcements
NYS Agricultural Soil Survey
In order to better understand the unique soils used in New York City's urban farms, Cornell Cooperative Extension's urban agriculture program launched the NYC Survey of Agricultural Soils in 2018. After obtaining soil and plant tissue analysis from ten urban farms in NYC, we are expanding the survey in 2019 with the goal of informing best management practices for unique productive urban soils. See our
preliminary findings and more information
, including a how-to tip sheet for NYC urban farmers on collecting soil samples and getting a soil test.