Event Details
Date
July 16 - July 19, 2018
Time
M-W 8:00 AM - 5:00 PM; Th 8:00 AM - 1:00 PM
Location
Cornell University Stocking Hall
411 Tower Rd
Ithaca, NY 14853
Cost
$125.00 per person


Host
Harvest NY, Dept of Ag & Markets, and Cornell
Anika Zuber
585-813-3539
email Anika Zuber
Pre-Registration Deadline: July 2, 2018

EVENT HAS PASSED
Certified Milk Inspector Summer School
July 16 - July 19, 2018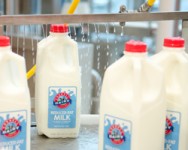 Provides detailed instruction of required dairy farm inspections and is a required course for Certified Milk Inspectors (CMI), those who inspect dairy farms. Offered once each summer.
Instruction provided by Anika Zuber, CCE Harvest NY Dairy Processing Specialist, and the Department of Agriculture and Markets.
Cost: $125. Register by July 2, 2018. The course is limited to the first 30 registrants.