Event Details
Date
May 15 - May 16, 2018
Time
8:00 AM - 5:00 PM
Location
Vermont Department of Health
359 S Park Dr
Colchester, VT 05446
Cost
$725.00

Host
Harvest NY and Vermont Extension
Anika Zuber
585-813-3539
email Anika Zuber
Pre-Registration Deadline: May 8, 2018

EVENT HAS PASSED
Dairy Science and Sanitation Workshop
May 15 - May 16, 2018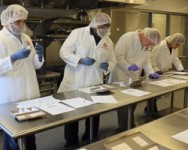 The Dairy Science and Sanitation Workshop is tailored to dairy processing personnel and is designed to help participants understand the basic principles of dairy science and safety, as well as emphasize dairy processing establishment needs related to dairy sanitation to ensure that proper programs are conducted in their establishments.
The course consists of online lecture sessions that will cover basic dairy science, including composition of milk, dairy microbiology, and dairy food safety, as well as an overview of dairy regulations. Participants will also learn in hands-on sessions the basics of cleaning and sanitizing principles, unit operations -- both raw milk production and receiving, and dairy processing, plant equipment and design, general control of pathogenic and spoilage microorganisms, in depth information on cleaning and sanitizing chemicals, their properties and applications, and a discussion on CIP and COP systems and common errors seen in the industry. The course also provides hands-on sessions where both CIP and COP principles will be applied.
Instruction is provided by Anika Zuber, Dairy Processing Specialist with CCE Harvest NY, and Omar Oyarzabal, Extension Associate Professor, Food Safety Specialist, University of Vermont.
$725 registration fee. Registrations must be received by May 8 and the course is limited to the first 15 registrants.
Upcoming Events
Strategic Workforce Approaches Symposium
May 22, 2019
Wednesday, 9:00 AM - 4:30 PM
Ithaca, NY
Retention. Attraction. Workforce. People. The dairy industry has consistently shared that these factors need to be improved. Our Cornell Dairy team is hosting a Strategic Workforce Approaches Symposium on Wednesday, May 22nd where we will be hearing from industry partners on existing workforce development resources and current strategies that are working for businesses. Featured speakers will include the Manufacturers Association of Central New York; Bruce Krupke, Executive Vice President of Northeast Dairy Foods Association; Dr. Richard Stup, Agriculture Workforce Specialist of Cornell University; and an industry panel, "Navigating Employee Interaction Strategies."

Announcements
NYS Agricultural Soil Survey
In order to better understand the unique soils used in New York City's urban farms, Cornell Cooperative Extension's urban agriculture program launched the NYC Survey of Agricultural Soils in 2018. After obtaining soil and plant tissue analysis from ten urban farms in NYC, we are expanding the survey in 2019 with the goal of informing best management practices for unique productive urban soils. See our
preliminary findings and more information
, including a how-to tip sheet for NYC urban farmers on collecting soil samples and getting a soil test.