Event Details
Date
March 2, 2018
Time
9:00 AM - 3:00 PM
Location
SUNY Cobleskill, Center for Ag and Natural Resources
114 Rockland Ave
Cobleskill, NY 12043
Cost
$55.00 per person


includes lunch and course materials


Host
Harvest New York
MacKenzie Waro
607-287-1292
email MacKenzie Waro
Pre-Registration Deadline: February 26, 2018

EVENT HAS PASSED
Pork Processing Workshop
March 2, 2018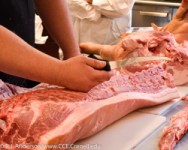 Maximize our meat profit! Learn how to cut a hog carcass, make sausage, and market your pork. Process the whole pig!
COST: $55 includes lunch and course materials.
For more information,
contact MacKenzie Waro
.
Upcoming Events
Strategic Workforce Approaches Symposium
May 22, 2019
Wednesday, 9:00 AM - 4:30 PM
Ithaca, NY
Retention. Attraction. Workforce. People. The dairy industry has consistently shared that these factors need to be improved. Our Cornell Dairy team is hosting a Strategic Workforce Approaches Symposium on Wednesday, May 22nd where we will be hearing from industry partners on existing workforce development resources and current strategies that are working for businesses. Featured speakers will include the Manufacturers Association of Central New York; Bruce Krupke, Executive Vice President of Northeast Dairy Foods Association; Dr. Richard Stup, Agriculture Workforce Specialist of Cornell University; and an industry panel, "Navigating Employee Interaction Strategies."

Announcements
NYS Agricultural Soil Survey
In order to better understand the unique soils used in New York City's urban farms, Cornell Cooperative Extension's urban agriculture program launched the NYC Survey of Agricultural Soils in 2018. After obtaining soil and plant tissue analysis from ten urban farms in NYC, we are expanding the survey in 2019 with the goal of informing best management practices for unique productive urban soils. See our
preliminary findings and more information
, including a how-to tip sheet for NYC urban farmers on collecting soil samples and getting a soil test.