Event Details
Date
March 2, 2018
Time
9:00 AM - 3:00 PM
Location
SUNY Cobleskill, Center for Ag and Natural Resources
114 Rockland Ave
Cobleskill, NY 12043
Cost
$55.00 per person


includes lunch and course materials


Host
Harvest New York
MacKenzie Waro
607-287-1292
email MacKenzie Waro
Pre-Registration Deadline: February 26, 2018

EVENT HAS PASSED
Pork Processing Workshop
March 2, 2018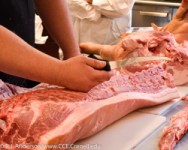 Maximize our meat profit! Learn how to cut a hog carcass, make sausage, and market your pork. Process the whole pig!
COST: $55 includes lunch and course materials.
For more information,
contact MacKenzie Waro
.
Upcoming Events
Indoor Specialty Mushroom Cultivation Course
February 26 - April 2, 2019
Tuesday evenings, 6:00 - 9:00 PM
New York, NY
The six-week course combines mushroom growing and marketing instruction with discussions about the ethnography of mushroom production.
GreenThumb GrowTogether Conference
March 30, 2019
8:00 AM - 4:00 PM
New York, NY
Kick-off the community gardening season in New York City at this full-day event packed with workshops on garden related topics including food systems education, kids' activities, vegetable growing techniques, and community garden design for the present and future.
Growing Tomatoes for Market
April 8, 2019
Monday, 6:30 - 8:30 PM
New York, NY
In this workshop we'll discuss systems for growing tomatoes at a small market scale. Jason Grauer will share his tomato growing techniques, from selecting varieties and propagating seedlings to trellising and pruning. We will also review some of last year's worst tomato pests and diseases in NYC and what to do about them.
With guest speaker Jason Grauer, senior crops manager at the Stone Barns Center for Food and Agriculture.
Announcements
NYS Agricultural Soil Survey
In order to better understand the unique soils used in New York City's urban farms, Cornell Cooperative Extension's urban agriculture program launched the NYC Survey of Agricultural Soils in 2018. After obtaining soil and plant tissue analysis from ten urban farms in NYC, we are expanding the survey in 2019 with the goal of informing best management practices for unique productive urban soils. See our
preliminary findings and more information
, including a how-to tip sheet for NYC urban farmers on collecting soil samples and getting a soil test.
Food Safety: Critical for the Success of NY Farms
The CDC estimates that each year 48 million people get sick from a foodborne illness with over 128,000 hospitalized. According to the Center for Food Integrity, "food safety" is the third most common food topic searched online. The threat to human health from contaminated foods also represents a major financial risk for New York agriculture.
Harvest NY specialists are leading the effort to keep consumers safe and NYS farms and processing businesses successful in the emerging world of food safety. Despite the diversity of sectors we serve, each of our program areas touch on this topic; from the 4,600+ NY dairy farms, the 64,000 dairy processing jobs, to the 8.5 million residents of New York City. Although we focus on many other issues, Harvest NY recognizes that food safety is essential for New York farmers and consumers.
Read a report about our food safety work across NYS