PRO-DAIRY
Last Modified: January 29, 2016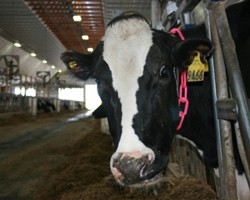 For nearly 30 years, PRO-DAIRY has been positively impacting New York's dairy industry. Through its research, discussion groups, educational programs, financial analysis, websites, publications and personal contacts, the Cornell University based program reaches thousands of dairy professionals annually.
PRO-DAIRY works collaboratively across the dairy industry to accomplish its mission. The program is a joint venture of the New York State Department of Agriculture and Markets and Cornell University's College of Agriculture and Life Sciences. The program also partners with the Center for Dairy Excellence, established by the New York Farm Viability Institute. PRO-DAIRY thanks these partners for their support and the state of New York for its financial contribution.
Other collaborators include dairy producer groups, Cornell Cooperative Extension, and numerous agribusinesses and state government agencies.
The 2015 PRO-DAIRY Annual Report reviews the many highly successful - and results driven - PRO-DAIRY programs that provide expertise in farm-level economic development, environmental stewardship, on-farm renewable energy, and development of future farm leaders in New York.
PRO-DAIRY 2015 Annual Report (pdf; 4025KB)