Harvest of the Month Marketing Materials - Dried Beans
Becky O'Connor, Farm to School Coordinator, WNY & Finger Lakes
Harvest New York
May 4, 2020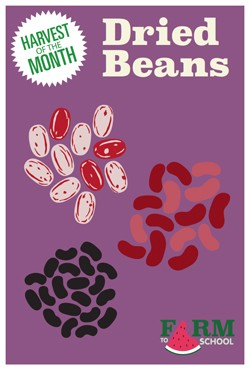 The Harvest of the Month program was originally branded by the Buffalo Public Schools Farm to School (F2S) team. Posters, newsletters, and infographics were created by a graphic designer to help highlight and promote the consumption of locally-grown foods. The Buffalo School District F2S team partner, Cornell Cooperative Extension of Erie County, developed content for the newsletters which is shared with parents and the school community. Infographics are displayed in the district's cafeterias.

Buffalo Public Schools has agreed to share the materials with any F2S program that would like to use them. Harvest New York has created generic versions of the materials which are available below for download. The materials can be edited and adapted for your district or program's use.

For questions, more information about editing and printing the materials, or for the Adobe InDesign files, please contact Becky O'Connor, Harvest New York's WNY Farm to Institution Coordinator.
Special thanks to Buffalo Public Schools for sharing these resources; graphic designer Julian Montague for creating the materials; and Cornell Cooperative Extension of Erie County's SNAP-Ed nutrition educators for developing newsletter and infographic content.
Dried Beans Poster (11x17) (pdf; 93KB)
Dried Beans Poster (24x36) (pdf; 88KB)
Dried Beans Newsletter (pdf; 549KB)
Dried Beans Infographic (pdf; 1782KB)
Upcoming Events
Seed Sowing Workshop
March 25, 2023
10:00 am - 1:00 pm
Brooklyn, NY
Brooklyn Queens Land Trust and Brooklyn Grange invite you to create customized flats for your garden in this not-your-typical seed sowing workshop with Kwesi Joseph, Urban Garden Specialist with Cornell Cooperative Extension's Harvest New York.

Learn to sow seeds in a commercial greenhouse setting and leave them to grow for eight weeks while the Brooklyn Grange Farmers lovingly tend to the seedlings. This workshop is aimed at gardeners of all experience levels. Please come if you want to grow plants that are not usually found at traditional plant giveaways, local hardware stores, or nurseries. Participants are encouraged to bring (and share!) seeds, especially ancestral seeds, culturally important seeds, or seeds with a story. Brooklyn Grange will also supply seeds the day of.

Announcements
New Ag Climate Factsheet Released
The intersection of agricultural production and greenhouse gases is gathering increasing attention. This is an opportune time to consider how vegetable production interacts with carbon sequestration and greenhouse gas emissions, and how using cover crops may alter this picture.
The factsheet,
Greenhouse Gases and Soil Organic Carbon in Vegetable Production and the Role of Cover Crops
, written by Zach Spangler, Ag Climate Resiliency Specialist with CCE Harvest NY, and Elizabeth Buck, Fresh Market Vegetable Specialist, CCE Cornell Vegetable Program, discusses:
Sequestration of atmospheric carbon in agricultural soils as soil organic carbon (SOC). Is vegetable production impacting SOC?
Net greenhouse gas emissions of carbon dioxide (CO2), nitrous oxide (N2O), and methane (CH4) from the soil.
Impact of cover crops on soil organic carbon, nitrous oxide emissions, and other GHG emissions.
The NY Food Hub Collaborative Takes Root!
Cornell Cooperative Extension has received a USDA Regional Food Systems Partnership Planning and Development grant for the NY Food Hub Collaborative. This is a 2-year project.
The NY Food Hub Collaborative brings together 29 local food system stakeholders representing 21 organizations to realize the long-term goal of improving the economic viability of mid-tier value chain partners targeting local markets by improving efficiencies, maximizing profits, and increasing demand for NY food products. Three objectives guide the project tea toward that goal:
1. Establish a Collaborative of interdependent food hubs designed to work collaboratively to efficiently, affordably, and effectively market NY food products to institutional markets.
2. Identify the potential for small, mid-size, and socially disadvantaged producers to be competitive in state agency and institutional contracts.
3. Develop strategic business relationships between mid-tier value chain partners including food hubs, producers, processors, distributors, and markets that emphasize organizational interdependence, trust, and transparency and equitably distribute responsibilities and rewards.
Objectives will be met through strategic planning amongst Collaborative partners, virtual field trips to learn best practices from national partners, business-to-business development opportunities, producer and market partner training, and a series of outputs. Outputs include an interactive local food system asset map, a procurement guide on selling NY food products to various institutional markets, an analysis of existing procurement policies across institutions and recommendations for improvement, market analyses of key institutional market partners, a NY Collaborative product guide, and an implementation plan that provides a framework to operationalize the NY Food Hub Collaborative.
Project Partners:
Cornell Cooperative Extension Harvest NY
Cornell Cooperative Extension Broome, Oneida, Essex, and Saratoga Counties
Farm Fare
Syracuse University
Upstate Growers & Packers
Eden Valley Growers
Capital Roots
Farm Fresh First
607CSA
Hub on the Hill
Headwater Food Hub
Syracuse Onondaga Food Systems Alliance
Hudson Valley Agribusiness Development Corp.
Center for Agriculture Development and Entrepreneurship
NYS Department of Agriculture and Markets
Buffalo City School District
Syracuse City School District
NYC Citywide Administrative Services
Additional project partners will be identified as the project takes root. If you're interested in learning more or getting involved, please reach out to Project Director, Cheryl Bilinski,
cbt32@cornell.edu
.