Dairy Farm Business Summary and Analysis (DFBS)
June 19, 2014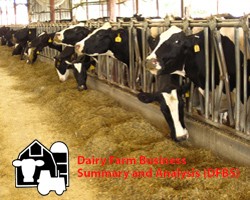 The objective of the Dairy Farm Business Summary (DFBS) is to enable producers to:
analyze their financial situation
set future goals
make sound financial decisions
The DFBS also allows producers to compare their business to an average of other producers.
"The DFBS has enabled our farm to make solid business decisions on expansions and monitoring income and expenses comparing ourselves to other farms in our area, state and country. Without the DFBS, we believe we will lose critical information that keeps us competitive and eventually lead to an unstable food supply in our region and statewide."
-- Mark Stanton, farm operator of 360-cow dairy farm in Albany County, DFBS participant for 20 years.
Records submitted by dairy farmers provide the basis for extension education programs for farmers, applied research studies and classroom teaching. Individual farm data are kept strictly confidential. Participation in the project is free of charge for New York farmers.
The summary and analysis report that producers receive includes:
progress of the farm business
income statement
profitability analysis
balance sheet
balance sheet analysis
statement of owner equity
annual cash flow statement
repayment analysis
cropping program analysis
dairy analysis
capital & labor efficiency analysis
receipts & expenses per cow & per cwt.
DFBS Sample Report (pdf; 60KB)