Farm Strategic Planning
The dairy foods industry in New York continues to experience tremendous expansion and growth in the areas of production of yogurt and related products, artisan cheese production, as well as production of dairy powders, which have considerable opportunities for export. The growth in dairy foods processing capacity represents an opportunity for expanded farm-level production. This growth will take place both in the form of increased cow numbers and increased production per cow where appropriate, with emphasis on economically and environmentally sustainable growth strategies to ensure long-term continued supply of milk to meet the processing demands.
The Farm Strategic Planning Specialist on the Harvest NY team provides producers assistance with farmstead development, facility layout, and environmental planning to optimize production on dairy, crop and livestock farms.
Most Recent Farm Strategic Planning Content
Robotic Milking Systems - What We've Learned So Far (Part 2)
Timothy Terry, Farm Strategic Planning Specialist

Last Modified: July 6, 2018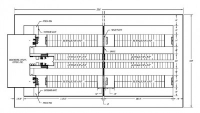 Below are more tidbits on robotic milking.
Robotic Milking Systems - What We've Learned So Far (Part 1)
Timothy Terry, Farm Strategic Planning Specialist

Last Modified: June 4, 2018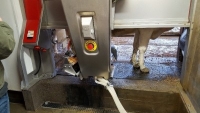 I was recently invited to participate in a robotic farming discussion group. The evening began with a few presentations by a robot manufacturer which, surprisingly, were less about sales and more about start-up and management of the systems and the cows. These proved to be good fodder for a fruitful discussion among the technical service people, dairymen and women, and other industry people in attendance, like yours truly.

20 Attributes to Highly Successful Managers: Insights from Danny Klinefelter
Timothy Terry, Farm Strategic Planning Specialist

Last Modified: January 24, 2017

On January 5, 2017 the NY State Agricultural Society held its 185th Annual Meeting and Agricultural Forum in Liverpool, NY. Dr. Danny Klinefelter, Professor and Extension Economist from Texas A&M University gave the keynote address:
Attributes of Highly Successful Farmers and Collaborative Arrangements
. Provided is a synopsis of that address with some embellishments.
These attributes are not size, or even industry, dependent. They apply just as easily to the CEO of a large multi-national corporation as they will to the brew master of a start-up microbrewery. See how many you can check off as, "Yes, I do that."
More Farm Strategic Planning Content
Upcoming Events
Fluid Milk Processing for Quality and Safety (Online Course)
July 1 - December 31, 2018

This online workshop (with rolling registration) is designed for those involved and interested in fluid milk processing and testing with the intent of providing the tools to support and improve on quality assurance/control and food safety programs for bottled milks. While the course design assumes participants have some prior knowledge of dairy microbiology & processing (e.g., Dairy Science & Sanitation Course), critical concepts will be reviewed and expanded on for those who do not. This course can be taken as a stand-along program, but it also fulfills the core training requirement of a Cornell Dairy Foods Certificate for Fluid Milk Processing for Quality and Safety after all required prerequisite courses have been taken (e.g., Dairy Science & Sanitation, HACCP, HTST).
Dairy Science and Sanitation Workshop
August 7 - August 8, 2018
T 8:00 AM - 5:00 PM; W 8:00 AM - 12:00 Noon
Ithaca, NY
The course consists of online lecture sessions that will cover basic dairy science, including composition of milk, dairy microbiology, and dairy food safety, as well as an overview of dairy regulations. Participants will also learn in hands-on sessions the basics of cleaning and sanitizing principles, unit operations -- both raw milk production and receiving, and dairy processing, plant equipment and design, general control of pathogenic and spoilage microorganisms, in depth information on cleaning and sanitizing chemicals, their properties and applications, and a discussion on CIP and COP systems and common errors seen in the industry.
St. Lawrence Valley Produce Auction Growers Meeting

August 15, 2018
6:00 PM - 8:00 PM
North Bangor, NY
This course will demonstrate pest management in fresh market vegetables in both field and greenhouse (high tunnel) vegetables; primarily for those growing for wholesale auction. A hands-on demonstration of weed, insect and disease identification in vegetables including management options such as inter-row cover crops, grafting and where appropriate, spray options will be used to educate growers. Judson Reid, Senior Extension Associate with the Cornell Vegetable Program and Harvest New York along with CCE staff will instruct participants and facilitate peer-based learning. Details on each topic will focus on field observations at the farm.
Announcements
Growing for Wholesale Guidelines Available
Grading and packing guidelines are now available for 16 commonly grown specialty crops in NYS: broccoli crowns, Brussels sprouts, corn, green peppers, cucumbers, green cabbage, red cabbage, savory cabbage, cauliflower, eggplant, green beans, jalapenos, poblanos, Hungarian hot peppers, summer squash, and zucchini.
Acceptable quality standards and common defects that should be sorted out on the grading line are depicted in these resources, both visually and in outline form. Find all of the
grading sheets here
.