Event Details
Date
April 13, 2017
Time
9:30 AM - 3:00 PM
Location
Cabin in the Arcade Village Park
100 Grove St
Arcade, NY 14009
Cost
$15.00 per person
(additional attendee $15.00 ea.)

Host
Harvest New York
Tim Terry
585-689-9163
email Tim Terry
Manure Handling and Storage Workshop - CANCELED
April 13, 2017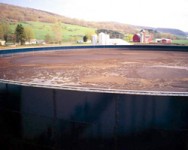 THIS EVENT WAS CANCELED DUE TO LOW REGISTRATION NUMBERS. WE WILL LOOK AT RE-SCHEDULING THE WORKSHOP AT A LATER DATE.

Local farms and agency representatives with manure handling questions and concerns are invited to join Harvest New York for this in-depth workshop on manure handling and storage.
Review of local manure concerns
Storage issues -- manure covers, satellite storages, labor
CAFO questions
Q&A on environmental issues -- winter spreading, tile discharges, solid separation, bedding, odor, liners, manure transfer
NYS Ag & Markets Non-Point Source grants program
NRCS EQIP program opportunities
Speakers will include Tim Terry, Farm Strategic Planning Specialist, Harvest NY; Pete Wright, Pro-Dairy; Cattaraugus County SWCD District Staff; and Derek Zerkowski CCA, Soil Conservationist, USDA-NRCS.
COST: $15 per person includes lunch if pre-registered by April 10.
For more information and to pre-register,
contact Tim Terry
.
Upcoming Events
Artisan Cheeses of Western New York
May 17, 2017
6:30 PM - 9:00 PM
East Aurora, NY
Cornell Cooperative Extension of Erie County and Harvest New York present
Artisan Cheeses of Western New York
. Western New York is producing some of the most interesting and most thoughtfully created artisan cheeses in the state. Cornell Cooperative Extension Dairy Processing Specialist (and Harvest NY team member) Carl Moody will give an overview of the cheese-making process and share what artisan cheesemakers are doing in the region as well as samples of some of their best work.
Cured Meats Workshop
May 31 - June 1, 2017

Ithaca, NY
The Cured Meats Workshop is tailored to small-scale meat processors and restaurant owners interested in creating a value-added meat product for their customers.
Announcements
Alternative Markets for Malting Barley
What will you do if the malting barley you've grown does not meet the specs of your maltster? Plan ahead for an alternative market for rejected barley. This can help minimize economic losses if the crop is rejected based on grain quality
Harvest NY, together with CCE Erie County, has put together an informative flyer about Malting Barley Alternative Markets. The publication covers market opportunities for rejected barley and potential buyers.
Read more...
Upcoming Beef, Lamb, and Pork Processing Workshops
Harvest New York, in collaboration with SUNY Cobleskill, is offering workshops for animal producers on Beef, Lamb and Pork processing to maximize profit!
Read more...
Western NY Food Hub looking for produce farmers!
Eden Valley Growers (EVG) is opening their doors to new produce growers interested in selling through wholesale market channels! Dubbed the Western NY Food Hub, this business diversification will provide qualified growers with immediate access to wholesale markets. Based in Erie County, EVG is a vegetable growing farm cooperative that recently celebrated its 50th anniversary. Recognizing the increasing demand for locally grown food and the considerable assets the cooperative has, both in terms of infrastructure, sales and marketing, they are eager to provide Western NY farmers with a viable market for their produce. Click
HERE
to see more information.