Event Details
Date
April 13, 2017
Time
9:30 AM - 3:00 PM
Location
Cabin in the Arcade Village Park
100 Grove St
Arcade, NY 14009
Cost
$15.00 per person
(additional attendee $15.00 ea.)

Host
Harvest New York
Tim Terry
585-689-9163
email Tim Terry
Manure Handling and Storage Workshop - CANCELED
April 13, 2017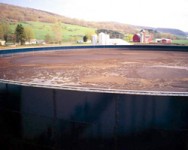 THIS EVENT WAS CANCELED DUE TO LOW REGISTRATION NUMBERS. WE WILL LOOK AT RE-SCHEDULING THE WORKSHOP AT A LATER DATE.

Local farms and agency representatives with manure handling questions and concerns are invited to join Harvest New York for this in-depth workshop on manure handling and storage.
Review of local manure concerns
Storage issues -- manure covers, satellite storages, labor
CAFO questions
Q&A on environmental issues -- winter spreading, tile discharges, solid separation, bedding, odor, liners, manure transfer
NYS Ag & Markets Non-Point Source grants program
NRCS EQIP program opportunities
Speakers will include Tim Terry, Farm Strategic Planning Specialist, Harvest NY; Pete Wright, Pro-Dairy; Cattaraugus County SWCD District Staff; and Derek Zerkowski CCA, Soil Conservationist, USDA-NRCS.
COST: $15 per person includes lunch if pre-registered by April 10.
For more information and to pre-register,
contact Tim Terry
.
Upcoming Events
Field to Pint Craft Brewery Tour (Eastern NY)
June 29, 2017
12:00 PM - 5:30 PM
Hudson Falls, NY
You asked for more New York craft brewery networking opportunities and Harvest NY listened! We're excited to launch our inaugural
New York Field to Pint Craft Brewery Tours, which will follow the life-cycle of a pint of locally brewed beer. Visit fields of malting barley right before harvest, witness craft malt houses in action, see hop bines reaching for the sky, and savor the local flavors brewed by our friendly farm breweries. Come prepared to learn about each integral member of the New York craft brewery supply chain, as well as network with new friends. Bus tour will visit Argyle Craft Malt and Hops, Dry Town Hops, and R.S. Taylor and Sons Brewery.
Food Safety Modernization Act Seminar
July 14, 2017
9:00 AM - 1:00 PM
East Aurora, NY
Harvest New York is offering a 4 hour Preventive Controls for Human Food Overview course. This 4 hour seminar is not a substitute for the material presented during the 2.5 day course, but it serves as an overview of the requirements and can be used to gain awareness of the regulation requirements; as food safety team member training; or as a refresher to enhance understanding. Small- to medium-sized businesses are specifically encouraged to attend.
FSMA Preventive Controls Qualified Individual Training
August 1 - August 3, 2017

During this 2.5 day Preventive Controls for Human Food - Qualified Individual course participants will learn principles of food safety; how to develop a written hazard analysis; when and how to develop the appropriate preventive controls; fundamentals of good manufacturing practices; monitoring, corrective action, verification and validation; and how to develop a recall plan. Successful completion of this course will result in the participant being given a certificate and qualify them as a Preventive Controls Qualified Individual.
Announcements
Industrial Hemp: From Seed to Market
New York is one of many states that has adopted an Industrial Hemp Research Pilot Program, as permitted by the 2014 Farm Bill. In an effort to provide an understanding of the industrial hemp market, as it stands today, Harvest NY compiled information from both primary and secondary sources of information. The contents within our whitepaper, which focus on the crop from seed to market, is heavily summarized, with links included to more in-depth reference data. The NYS Industrial Hemp Research Pilot Program is being administered by the NYS Department of Agriculture and Markets. Reference to their guidance document can be found
HERE
.
Western NY Food Hub looking for produce farmers!
Eden Valley Growers (EVG) is opening their doors to new produce growers interested in selling through wholesale market channels! Dubbed the Western NY Food Hub, this business diversification will provide qualified growers with immediate access to wholesale markets. Based in Erie County, EVG is a vegetable growing farm cooperative that recently celebrated its 50th anniversary. Recognizing the increasing demand for locally grown food and the considerable assets the cooperative has, both in terms of infrastructure, sales and marketing, they are eager to provide Western NY farmers with a viable market for their produce. Click
HERE
to see more information.