Event Details
Date
July 16 - July 19, 2018
Time
M-W 8:00 AM - 5:00 PM; Th 8:00 AM - 1:00 PM
Location
Cornell University Stocking Hall
411 Tower Rd
Ithaca, NY 14853
Cost
$125.00 per person


Host
Harvest NY, Dept of Ag & Markets, and Cornell
Anika Zuber
585-813-3539
email Anika Zuber
Pre-Registration Deadline: July 2, 2018

EVENT HAS PASSED
Certified Milk Inspector Summer School
July 16 - July 19, 2018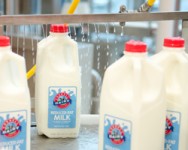 Provides detailed instruction of required dairy farm inspections and is a required course for Certified Milk Inspectors (CMI), those who inspect dairy farms. Offered once each summer.
Instruction provided by Anika Zuber, CCE Harvest NY Dairy Processing Specialist, and the Department of Agriculture and Markets.
Cost: $125. Register by July 2, 2018. The course is limited to the first 30 registrants.
Upcoming Events
Artisan Dairy Food Safety Plan Coaching Workshop
February 26 - February 27, 2019
2 days
Plattsburgh, NY
This coaching workshop is intended for Artisan Cheese and Dairy Food Producers who are preparing to create, or are already developing, a FSMA compliant, preventive control (PC)-based, food safety plan for their facility. The goal of this workshop is to provide Food Safety Plan review and coaching sessions that guide attendees through each step in development process. PCQI lead trainers will be present to review topics and answer questions.

Announcements
Food Safety: Critical for the Success of NY Farms
The CDC estimates that each year 48 million people get sick from a foodborne illness with over 128,000 hospitalized. According to the Center for Food Integrity, "food safety" is the third most common food topic searched online. The threat to human health from contaminated foods also represents a major financial risk for New York agriculture.
Harvest NY specialists are leading the effort to keep consumers safe and NYS farms and processing businesses successful in the emerging world of food safety. Despite the diversity of sectors we serve, each of our program areas touch on this topic; from the 4,600+ NY dairy farms, the 64,000 dairy processing jobs, to the 8.5 million residents of New York City. Although we focus on many other issues, Harvest NY recognizes that food safety is essential for New York farmers and consumers.
Read a report about our food safety work across NYS