Event Details
Date
January 16, 2018
Time
3:45 PM - 5:00 PM
Location
SRC Arena & Events Center, Onondaga Community College
4585 West Seneca Turnpike
Syracuse, NY 13215
Host
New York State Vegetable Growers Association

Empire State Producers Expo
Emerging Markets - Hemp
January 16, 2018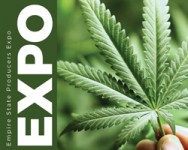 Empire State Producers Expo Session
Learn about the market potential of industrial hemp. Cornell, CCE Harvest NY, NYS Department of Ag & Markets, and experienced growers will provide information on production, processing, research, and rules and regulations.

Session organized by Maire Ullrich, CCE
---------------------------
The 2018 Empire State Producers Expo will take place on January 16-18 at a new location: Onondaga Community College's SRC Arena & Events Center in Syracuse, NY. This annual show combines the major fruit, flower and vegetable associations of New York State in order to provide a comprehensive trade show and educational conference for New York producers, as well as neighboring states and Eastern Canada. In years past over 100 presentations were given by Cornell Cooperative Extension personnel and highly regarded speakers from across the country. Panel discussions feature some of the top industry experts and growers in New York. Between educational sessions, attendees can visit the trade show featuring over 150 commercial vendors and non-profit exhibitors.
Session topics include commodity specific programs in berries, cabbage, snap beans, peas, beets, carrots, tomatoes, cut flowers, tree fruit, sweet corn, tomato, onion, root crops, vine crops, and emerging markets (hops, malting barley, mushrooms, hemp, hard cider); and multidisciplinary programs in precision irrigation, weed management, soil health, biopesticides, beginning farmer operations, marketing, greenhouse production, climate and forecast models, GMOs, and wildlife management. DEC pesticide recertification credits and Certified Crop Advisor (CCA) credits will be offered during the appropriate educational sessions.
The complete Expo program and registration information is available on the
NYS Vegetable Growers Association website
.
Upcoming Events
Fluid Milk Processing for Quality and Safety (Online Course)
July 1 - December 31, 2018

This online workshop (with rolling registration) is designed for those involved and interested in fluid milk processing and testing with the intent of providing the tools to support and improve on quality assurance/control and food safety programs for bottled milks. While the course design assumes participants have some prior knowledge of dairy microbiology & processing (e.g., Dairy Science & Sanitation Course), critical concepts will be reviewed and expanded on for those who do not. This course can be taken as a stand-along program, but it also fulfills the core training requirement of a Cornell Dairy Foods Certificate for Fluid Milk Processing for Quality and Safety after all required prerequisite courses have been taken (e.g., Dairy Science & Sanitation, HACCP, HTST).

The Science of Cheese Making (Basic Level) and Vat Pasteurization Workshop
October 23 - October 24, 2018

Ithaca, NY
This workshop is designed for cheese manufacturers or others interested in the basic concepts of cheese making and is a required part of the Dairy Extension Basic Cheese Making Certificate Program. The course may also be taken as a stand-alone Basic Cheese Making training. The course begins with an online lecture component covering the key areas related to vat pasteurization and basic cheese making techniques, cheese culture basics, milk defects, cheese defects and cheese marketing. The course will also include 2 days of hands-on pasteurization and cheese making activities.

2018 Cornell Agribusiness Strategic Marketing Confernece
November 7 - November 8, 2018

Lake Placid, NY
Developing Your Brand and Marketing Strategies to Increase Sales
This program will focus on brand development for a competitive market, collaborative approaches to marketing, multi-channel selling strategies, and technology adaption with your brand.

All members of the agricultural community are encouraged to attend!

Announcements
Take the New York Berry Grower Survey!
Attention New York State berry growers
Help us better understand the current status and future growth potential of New York's berry industry, as well as identify the best approaches to support and develop resources to help berry growers.
This survey, a collaborative effort between the New York Berry Growers Association and Cornell Cooperative Extension, will provide critical information needed to obtain additional funding from the State for research and extension efforts.
The survey contains 8 questions and should take less than 5 minutes to complete it.
Take the survey online
or you can
print the survey and mail it in using this PDF
.