Event Details
Date
January 16, 2018
Time
10:45 AM - 12:00 PM
Location
SRC Arena & Events Center, Onondaga Community College
4585 West Seneca Turnpike
Syracuse, NY 13215
Host
New York State Vegetable Growers Association

Empire State Producers Expo
Emerging Markets - Malting Barley: Technical Updates, Economics and Opportunities Session
January 16, 2018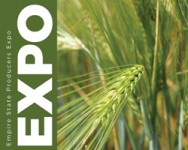 Empire State Producers Expo Session
Hear from a leading Cornell professor, Cooperative Extension experts, and an experienced grower about the current status of the New York craft beer supply chain, production economics, and working malting barley into your crop rotation. Bring your questions for a Q&A panel to address.
Session organized by Cheryl Thayer, Harvest New York
Research and Extension activities supported by New York State Department of Ag & Markets, Genesee Valley
Regional Market Authority, and NYFVI
---------------------------
The 2018 Empire State Producers Expo will take place on January 16-18 at a new location: Onondaga Community College's SRC Arena & Events Center in Syracuse, NY. This annual show combines the major fruit, flower and vegetable associations of New York State in order to provide a comprehensive trade show and educational conference for New York producers, as well as neighboring states and Eastern Canada. In years past over 100 presentations were given by Cornell Cooperative Extension personnel and highly regarded speakers from across the country. Panel discussions feature some of the top industry experts and growers in New York. Between educational sessions, attendees can visit the trade show featuring over 150 commercial vendors and non-profit exhibitors.
Session topics include commodity specific programs in berries, cabbage, snap beans, peas, beets, carrots, tomatoes, cut flowers, tree fruit, sweet corn, tomato, onion, root crops, vine crops, and emerging markets (hops, malting barley, mushrooms, hemp, hard cider); and multidisciplinary programs in precision irrigation, weed management, soil health, biopesticides, beginning farmer operations, marketing, greenhouse production, climate and forecast models, GMOs, and wildlife management. DEC pesticide recertification credits and Certified Crop Advisor (CCA) credits will be offered during the appropriate educational sessions.
The complete Expo program and registration information is available on the
NYS Vegetable Growers Association website
.
Upcoming Events
Baskets to Pallets: Intro to Selling Wholesale
January 29 - January 30, 2018
10:00 AM - 4:00 PM
Lowville, NY
Preparing Small and Mid-Size Farmers to Enter Food Hubs, Cooperatives, Restaurants and Groceries
This course is designed for farmers of all enterprises and will cover building relationships with buyers, customer management and record keeping, pricing, grading and packaging, uniformity and consistency, and food safety, among many other topics! This fun course includes plenty of hands-on activities and opportunities for peer learning and small group discussion. The course includes one break-out session for livestock and produce farmers. Additionally, the training includes an end-of-day session to start crop-planning for selling to the NNY Food Hub, based out of Jefferson county CCE, during the 2018 growing season.

Small-Scale Commercial Value-Added Dairy or Meat Production
February 12, 2018
10:00 AM - 2:00 PM
Lowville, NY
This presentation will introduce you to the ins and outs of small-scale dairy or meat production. Participants can choose to listen to dairy related topics OR meat related topics.

Market Strategies for Retail and Wholesale
February 15, 2018
10:00 AM - 2:00 PM
Canton, NY
Session for veggie, fruit, value-added and general producers. Presenter are Lindsey Pashow, Ag Business Development & Marketing Specialist for Harvest NY and Ian Ater owner/operator of Fledgling Crow Vegetables in Keeseville, NY.

Announcements
Starting a Winery in NNY: Considerations and Costs
Are you interested in starting a winery in Northern New York? CCE Harvest New York has put together a report and interactive Excel spreadsheets on
Starting a Winery in Northern New York: Winery Establishment Considerations and Costs
.
The report provides a general overview of starting a winery in Northern New York. You will find information on current wine sales, markets, winery establishment costs, licensing resources, growing grapes vs purchasing grapes or juice, winery building, and potential financial help resources.
Additionally, we have created Excel spreadsheets to help you determine some start-up costs and considerations. Within the Cost Calculating Spreadsheet, you will find worksheets for Yield per Vine, Yield per Acre, and Production Establishment Cost. Instructions are provided on the top of each worksheet.
Growing for Wholesale Guidelines Available
Grading and packing guidelines are now available for 16 commonly grown specialty crops in NYS: broccoli crowns, Brussels sprouts, corn, green peppers, cucumbers, green cabbage, red cabbage, savory cabbage, cauliflower, eggplant, green beans, jalapenos, poblanos, Hungarian hot peppers, summer squash, and zucchini.
Acceptable quality standards and common defects that should be sorted out on the grading line are depicted in these resources, both visually and in outline form. Find all of the
grading sheets here
.
Western NY Food Hub looking for produce farmers!
Eden Valley Growers (EVG) is opening their doors to new produce growers interested in selling through wholesale market channels! Dubbed the Western NY Food Hub, this business diversification will provide qualified growers with immediate access to wholesale markets. Based in Erie County, EVG is a vegetable growing farm cooperative that recently celebrated its 50th anniversary. Recognizing the increasing demand for locally grown food and the considerable assets the cooperative has, both in terms of infrastructure, sales and marketing, they are eager to provide Western NY farmers with a viable market for their produce. Click
HERE
to see more information.